There was talk last year about The Walking Dead getting its own spinoff and now AMC has ordered a pilot. The news was broken by last week, reporting that AMC President Charlie Collier said that they are "proceeding with extreme care in order to ensure that we are offering fans something truly compelling, engaging and distinct."
Creator Robert Kirkman has written the pilot script with showrunner Dave Erickson (Sons of Anarchy). Kirkman told Entertainment Weekly, "There are many corners of The Walking Dead universe that remain unseen in the shadows. Being given the opportunity to shine a light into those corners and see what lurks out there is an absolute thrill. I know the fans are anxious to hear what Dave and I have been cooking up for this new universe of The Walking Dead, and I'm happy to be one step closer to sharing it with them."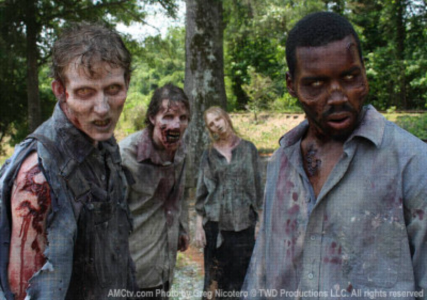 I became a fan of The Walking Dead as a comic book before it was made into a television show. I was excited when it was made into a show because it did deviate from the comic book and that helped keep it new and interesting. I've since stopped reading the comic book (I'll probably read all of them in graphic novel form when the series is over), but watch the show every week. I like that Kirkman is so enthusiastic about this new project, but I'm a little skeptical about it.
One of the things that I love about the story is the limited point of view from one group of survivors. The viewer only knows what the survivors know and that's part of the mystery. It is one reason why I was so intrigued at the introduction of Eugene's character last season. He has information that the others do not have, but I'm suspicious. In a world that has succumbed to the chaos of the zombie apocalypse, information is power and can be used in the wrong way or as a bluff. It's unclear how Eugene knows how to stop what's happened or if he actually knows anything at all, but this mystery creates suspense by keeping the viewer guessing.
The spinoff will be set in a different location with a new cast of characters. If the pilot does get picked up for a series I would like to see a few things happen.  I would like to see a new perspective on the world that these characters live in without it giving away too much.
I hope that the characters are compelling, whether good or bad or a mixture of both. I want to care about the characters like I do with The Walking Dead to the point that I worry so bad while watching the show that I almost give myself a panic attack. I just hope that it does not take anything away from the main series and that's really why I'm worried about it.
It is going to be hard for Kirkman and company to recreate something that has become so successful and has been a game changer for cable television. I don't think that a spinoff is necessary to the main story on The Walking Dead, but it could be an interesting and entertaining addition. My ultimate hope is that it makes both shows compelling, because otherwise I could do without it.