Netflix is getting in on the superhero action. Starting in May 2015, the streaming giant will roll out the first of four original series' based on characters created by Marvel. Each series will showcase one of the new Defenders- not the original members including The Hulk, Doctor Strange, Silver Surfer and Namor the Submariner- and culminate in a Defenders miniseries.
In February 2014, it was announced that Daredevil will be the first series to premiere all 13 episodes on the streaming service. So far, the release dates for the remaining shows featuring Jessica Jones, Iron Fist and Luke Cage have not yet been revealed, but until we hear otherwise, we can still look forward to a 2015 premiere.
Daredevil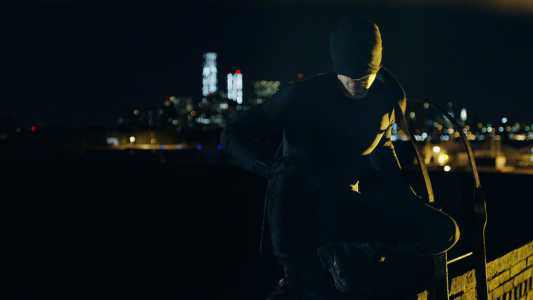 Daredevil, was developed for Netflix by Drew Goddard (who wrote Cloverfield and directed The Cabin in the Woods) and although he had to step down from the project in May 2014, he has already written the first two episodes of the series and will remain on as a consultant for the project. In keeping with the origin story of the character, who debuted in Marvel comics issue titled Daredevil, the premise of the show is that lawyer Matt Murdock -who lost his sight as a child- uses his heightened senses to fight crime as the Daredevil.
Charlie Cox (of Stardust and HBO's Boardwalk Empire fame), stars as the title role Matt Murdock/ Daredevil, a lawyer who secretly fights crime at night in the New York City's Hell's Kitchen neighborhood. Other familiar faces you can expect to see on the show include Jessica Hamby (of HBO's True Blood fame) as Karen Page, Rosario Dawson (of Sin City and Clerks II fame) as Claire Temple and Vincent D'Onofrio (of Law & Order: Criminal Intent fame) as William Fisk/Kingpin.
Jessica Jones
Jessica Campbell Jones Cage, or Jessica Jones, first appeared in Marvel comics issue titled Alias. She has been known to go by the aliases Jewel, Knightress and Power Woman. Her powers included superhuman strength and other powers before she retired to run Alias Private Investigations. In November 2013, Marvel and Disney announced an upcoming Netflix series featuring the super heroine and only female Defender, Jessica Jones, although no new information has yet been released.
Iron Fist
Iron Fist, or Daniel "Danny" Rand, first appeared in Marvel comics issue titled Marvel Premiere. Although he has previously used the alias Power Man, he currently sticks with the moniker Iron Fist. His powers include super human energy manifested by concentrated energy in his hands, including telepathic mind fusion, as well as being a master of K'un Lun martial arts. Other than a projected release in 2015, which was announced back in November 2013, no further information has yet been revealed about the upcoming Netflix series.
Luke Cage
Luke Cage/Power Man, born Carl Lucas, first appeared in Marvel comics issue titled Luke Cage: Hero for Hire. His powers include super strength and invulnerability to pretty much anything. In November 2013, Marvel and Disney announced a Luke Cage series set to air on Netflix. While much of the information regarding the television series based on Luke Cage has been kept under wraps, we do know a couple things: British actor Idris Elba will not be playing the title role and Luke Cage will make an appearance in the Jessica Jones series as well. As we all know, Jessica Jones and Luke Cage end up having a kid together in the comics.