Just when you thought the world of Harry Potter couldn't get any darker, along comes a bleak-as-soot spinoff that makes the earlier series look like kids' stuff. Borrowing its title from one of the textbooks Harry studied at Hogwarts School of Witchcraft and Wizardry, Fantastic Beasts and Where to Find Them marks the first screenplay written by J.K. Rowling herself. Though the world-renowned novelist had always kept a tight rein on how those adapting her Potter stories went about their task, this assignment gives her the unprecedented ability to address her massive global fanbase directly, while current events have given her something more substantive to say.
Plot
It's 1926 and Newt Scamander (Eddie Redmayne) arrives at Ellis Island with a bottomless suitcase filled with magical creatures ranging from a mischievous, yet adorable, Niffler (a cross between a mole and platypus,) to the enormous Thunderbird, which Newt attempts to release back to wilds of Arizona. Arriving in New York for a brief stopover, he might have come and gone without incident, were it not for a No-Maj (American term for Muggle) named Jacob, a misplaced magical case, and the escape of some of Newt's fantastic beasts.Which could spell trouble for both the wizarding and No-Maj worlds alike.
What follows next might as well be a high-end, period-themed upgrade to the popular Pokémon Go game, as we see Newt scramble to track down and recapture the escaped creatures before things really get out of hand. Things first spin out of control in an unusually complicated scene at the Bank when the Niffler escapes from the suitcase. At the same time ex-auror Tina Goldstine (Katherine Waterston) spies on Newt who is following Jacob Kowalski (Dan Fogler), who in turn is being followed by a suspicious bank manager. That's when it starts to feel like trying to follow a piece of fruit as it passes through a blender.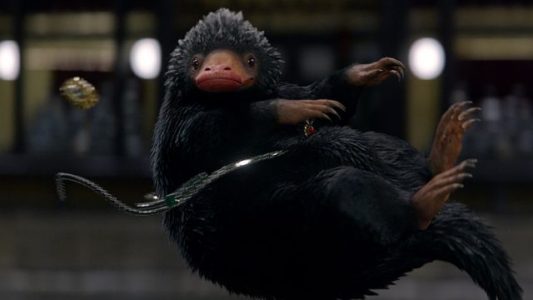 Harry Potter Universe
When J.K. Rowling first Harry Potter book came out in 1997, the main character was a 10 year old and his adventures were appropriate for kids at that age. Harry Potter and the Philosopher's Stone had its dark and creepy moments, but it was fundamentally about and for children. But over the course of the next 10 years and the next six novels, Harry Potter and his friends grew up. Alongside the series' fans who latched on to Rowling's work in school.
The new movie Fantastic Beast and Where to Find Them is the first full-length Harry Potter franchise story that leaves behind childhood adventure and teen angst, and expressly deals with adult characters living in an adult world. And there has to be some appeal for long-time fans of the series. It's a sign that the series has continued to mature with them. The effort to keep Rowling's world evolve around Harry kept making it smaller and dimmer then it should be. Fantastic Beasts, which takes places decades earlier and moves the action from Britain to New York, should be the series chance to move out of the Boy-Who-Lived's shadow.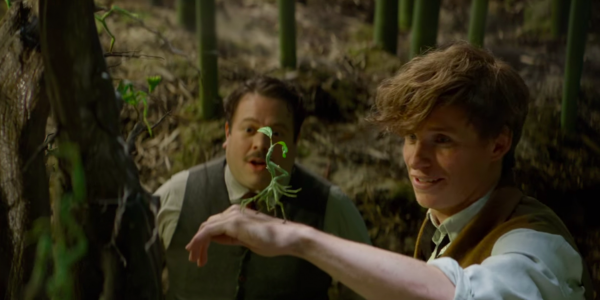 And for the most part, it does. But the movie, scripted by Rowling, and directed by Harry Potter veteran David Yates, often feels like it's over-crowded because Rowling is celebrating the freedom to expend past the borders of Harry Potter and start somewhere new for the franchise. And yet it seems Rowling has learned something from the Harry Potter franchise, clearly going out of her way to establish what can be expanded on in future films. And here we can sense the first glimmers of character details that will require several installments to take focus.
My Opinion
Fantastic Beasts does a good job at moving the on from the Harry Potter world we all know, but still stays true to with it with brief but notable mentions of Hogwarts and Dumbledore. The film featured a lot of Magical Creatures but we don't really see that many, we just hear about them and only a handful of the creatures escape from the suitcase.
While the characters are trying to find the missing creatures, there is a bigger threat happening that everyone just puts aside until it kills someone, taking away from the intensity a little. The story just feels like it was rushed with too much happening at the same time. That's not to say it's a bad film, it was good for the first one outside of the Harry Potter world, but in my opinion, could have been a lot better. Hopefully with the upcoming sequels, we can get more of a connection for the characters as the plot deepens…