Detective Gordon just might have his hands full next season on Gotham. The DC comics based FOX hit is currently casting for a male and female antagonist to debut in season 2.
According to TV Line, Gotham is looking to add two new DC comics villains to the show for season 2. Who are these two new villains? No one knows as of yet, but based on the direction of season 1 of the show, one could safely speculate that whomever they are they will probably be obscure given that the writers have pretty much exhausted most of the big name Batman villains with teasers throughout the first season.
For the male, a casting call was announced for an "intelligent, cultured and highly articulate," who is also "extremely attractive, both seductive and threatening." For the female, they're looking for "a sexy knock-out" in her twenties. See what I mean? These descriptions could apply to anyone in the DC Universe. And, you have to remember that we are talking about a prequel show so there is no limit to creative possibilities. Look no further than Fish Mooney.
Fish Mooney Could Return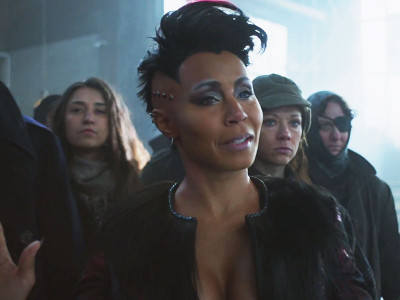 We also know that Jada Pinkett Smith's character, Fish Mooney, could return in season 2 as well. Remember earlier this year the actress spilled the beans that she was only under a one year contract with Gotham, which likely meant the end of her character by the finale. That was then, this is now.
Earlier this month, Smith gave an interview with Entertainment Weekly where she suggested that her character just might have survived that huge fall at the end of season 1 of Gotham—no thanks to the push from Oswald Cobblepot. Then again Smith was quite clear that Mooney will not be returning as a series regular. This can only mean that Mooney may occasionally pop up here and there, leading fans of the Gotham villain to draw the conclusion that we many not have seen the last of Fish Mooney. She also had this to say about her character's exit:
She's one of the characters that has been the most difficult to let go of. I still have my Fish Mooney nails and I think I'm going to keep them for a while. I love Fish. She's one of my favorite characters. If she survives, I would definitely be willing to do whatever was necessarily to continue servicing the story of Gotham. I think I'm going to hold onto these nails for a minute.
Mooney's possible return could be a good thing, especially since she is one of only two surviving real threats to Cobblepot and his new found status as the self proclaimed "King of Gotham." Gotham returns this fall on FOX.
Who do you think the new villains might be?