"If you wear a dress and have an animal sidekick, you're a princess," snarks the demigod Maui (Dwayne Johnson) when his new acquaintance Moana (Auli'i Cravalho) protests that she's actually the daughter of her tribe's chief, not royalty. He's got a clearly meta point: Heroines of Disney cartoons like Moana are instantly eligible to be inducted into the marketing network of Disney Princesses (at least if their movies are successful), regardless of their actual in-movie lineage. It's an early sign that Moana, from veteran Little Mermaid directors John Musker and Ron Clements, is self-conscious of its status as the next big Disney Princess movie.
How could it not, with such an amalgamated setup? Moana, whose tribe discourages anyone from leaving its small but lush island, dreams of a bigger, more adventurous life, just like Ariel, Belle, and Mulan before her. She also butts heads with her father (Temuera Morrison) and sings a yearning song about her desires before embarking on an adventure.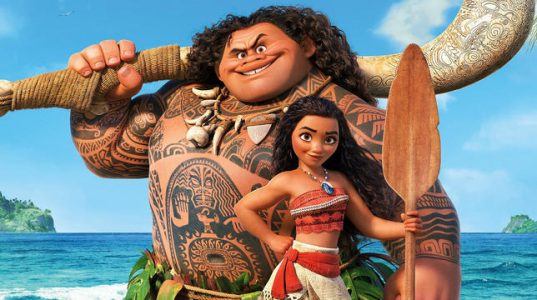 The Plot
In the beginning, when there was only ocean, Te Fiti, an island goddess, emerged. Te Fiti's heart, a small pounamu stone, possessed the power to create life and raise islands. But it also attracted monsters who tried to steal it for its creative power. It was stolen by the demigod Maui, who planned to give it to humanity as a gift. Upon removing the stone, Te Fiti was enveloped in darkness. As Maui made his escape, he was attacked by the lava demon Te Kā, causing the heart to become lost in the ocean along with his magical fishhook.
A millennium later, a young Moana Waialiki, the daughter and heir of a chief on the small Polynesian island of Motunui, is chosen by the ocean to receive the heart as she is collecting shells on the shore. Her father, Chief Tui, insists the island provides everything the villagers might need. But a few years later, the fish become scarce, coconuts begin to spoil, and the island's vegetation begins to die. Moana proposes going beyond the reef to find more fish. Tui angrily rejects her request, as sailing beyond the reef is forbidden.
Animation
The animation does some tweaking of its own, in ways big and small. Moana and her eventual traveling companion, Maui, are on a relatively standard-issue hero's journey, with periods of reflection and character-building alternating with exciting obstacles, but the familiarity is diminished by the artistry of those obstacles. From a gang of diminutive pirates who look like Mad Max villains in miniature to the gigantic creatures Moana and Maui encounter in a realm of monsters to the shimmering sea itself (which has a mystical bond with Moana), the movie presents eyeful after eyeful in gloriously popping colors. It also dabbles in some more 2-D-looking animation, which for one running gag, involves the rarely used tattoo reaction shot.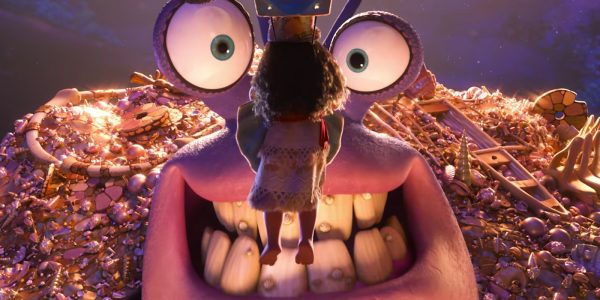 Can it be a classic?
Disney has released some memorable films recently such as Frozen and Tangled. Moana is a great film with songs that progress the story (like most Disney films) and an amazing cast, but to me, it just is not as memorable as other Disney films. The songs in Moana are not as catchy as previous films and with the story being set on the ocean, it seems to spend to much time on the ocean to get from one place to another. The characters do go to other places such as the Realm of Monsters, but most of the film just features Moana and Maui on the raft.
My opinion
As I said above, Moana is a great film for any Disney fan and hearing Dwayne Johnson sing just makes it even better. And while to me, it may not have the same classic-vibe as its predecessors, there are some touching and amusing zigzags on the way to the film's sweet and affirmative conclusion.
Moana inhabits a bright world of water and sunshine, into which the filmmakers insert a handful of visual and musical showstoppers. The best of these is probably a glam-rock pastiche called "Shiny," performed by Jemaine Clement in the guise of a greedy giant crab. Mr. Miranda's motor-mouthed synthesis of hip-hop and show-tune traditions provides jolts of energy and wit, matched by some clever bits of animation. Maui's tattoos come to life, making his body an inky comic strip within the film's splashy, colorful cartoon world.
So with all of that being said, as with the majority of Disney films, you will succumb to an enjoyable experience that can be good for the whole family.