N7 Day 2016 has come and went, and with it Bioware gave us some excellent looks into the world of the upcoming Mass Effect: Andromeda. It also left us with just a little bit of frowning because, let's face it people, we always want more than what's given. Here are some of the excellent things that were released that we loved from N7 Day:
1) The New Cinematic Trailer
To start us off Bioware previewed a new cinematic trailer that was delightfully heavy on the action with just the delicate hint of foreboding. Bioware listed it's official introduction as this:

"Take the role of the Pathfinder, leading humanity's search for a new home in this unexplored and unforgiving region of space. You'll chart your own course, navigating the Andromeda galaxy to unravel its mysteries, discover vivid alien worlds, and lead the charge to find the human race a new home among the stars. You'll be able to upgrade and customize your gameplay experience with a deep and flexible progression system, and lead your squad into action-packed combat using advanced weaponry, special abilities, and more than a few new tricks."
Really the trailer gives us a wonderful look into a high energy, and frankly dangerous as hell, environment we will be facing following our new appointment to Pathfinder. We also get a pretty good hint at the scale of some of the new alien life, as well as a peek at what could be the main antagonist of our game. I love the trailer and I admit that it got me hyped like a brand new J.J. Abrams trailer. Lots of lens flares, quick flashes, and dramatic musical crescendos all around! But if you don't believe me check it out yourself:
2) Loyalty Missions Are Back!
Now if you are a long time player of Mass Effect, you will obviously know what loyalty missions are and realize why this is a big deal. For those of you who are new to this lovely universe, lean in closer.
Loyalty missions were a component in Mass Effect 2, that was not included in Mass Effect 3 sadly, that allowed you to really get insight into the NPC companion characters who were a part of your team. By completing these missions, you were able to gain knowledge about their motivation and background and it really affected the way they interacted with your main character. This is one of the things that fans love about Bioware games, deep characters that we end up feeling connected to or end up caring about, everyone has their favorites. COUGH. Garrus. COUGH. Mordin.
Regardless of who was your favorite, the return of the loyalty mission really adds depth to the games, however this time it looks like they will not be affecting our ending. Creative Director Mac Walters confirmed in a recent interview with Game Informer that the loyalty missions are back, and that they will be tweaked a bit.
"The big difference between this and ME2, where you did a loyalty mission and that all impacted the ending, is that they're much more optional in this case," Walters says. "If you don't want to engage with them, you don't have to. If you want engage with them after the critical path is done, you can do that."
3) Andromeda Initiative Orientation and Tidbits
So not only did they give us a new cinematic trailer, but the folks at Bioware also threw in a trailer that acts a recruit orientation video for the Andromeda Initiative! In the video, we get to meet Jien Garson, the founder of the Initiative. She congratulates us on our acceptance into the initiative and begins to give us the synopsis of the mission objectives and what we should expect as we prepare to slip into 600 year cryostasis to journey to Andromeda.
While short on action, this trailer is choke full of information and really helps to reveal some of the lore behind the game itself. We are informed that Andromeda launches in the year 2185, which occurs between Mass Effect 2 and Mass Effect 3, and we will be arriving 600 years in the future at Andromeda. Which means everything that happens during Mass Effect 3, no spoilers here, will have taken place independent of the Andromeda passengers.
We will be traveling aboard the Hyperion, as ship referred to as an Ark. Besides the human race, there will be three other Arks all departing at the same time as Hyperion. These Arks will be home to three other races each with their own Pathfinders. As a Pathfinder, it will be our job to to explore new planets, interact with new species, and establish colonies. Without giving everything away, it sounds like if you sign up for the Initiative you will be all set to learn a lot more in the coming weeks as well as have the chance to sign up for a potential Multiplayer Beta!
So needless to say, we got a bunch of fun information and stuff from Bioware, without getting the things we wanted the most. We still are lacking a release date and all we are left with after each trailer is the Spring 2017 announcement. However, that did not exactly stop Bioware from bombarding us with preorder potential of multiple special editions of the title. We are also lacking any actual gameplay footage, however Bioware did reveal that they will be releasing such footage at the upcoming Game Awards on December 1st.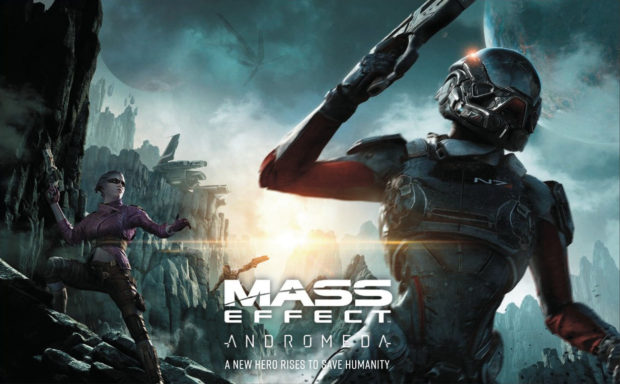 Whew! That is a lot to go over and it really only covers the stone cold facts. Whatever else you may see or glimpse in the trailers is entirely up to your own speculations. I personally spotted Salarians running in a trailer, so that makes me wonder if they are a race in Andromeda or are they on our team. Speculations abound! My advice to you is to head on over the Andromeda Initiative website. They have a brand new website you can play with that really allows a look into the world that Bioware is spending so much time creating. All the details off the site and the information released on N7 Day seem to indicate one thing, this is gearing up to be a well thought out and amazingly detailed game.