NIGHT IN THE WOODS
In the ever growing world of indie games, a new contender has entered the ring and is making a statement. Night In The Woods was released on February 21st after being announced in 2013 and plaguing the gaming world with anticipation. It is the companion to two previously released games: Longest Night in 2013 and Lost Constellation in 2014. The team behind NITW brilliantly used their timeline for the benefit of this release; NITW has been sought after for years and loudly celebrated in its release.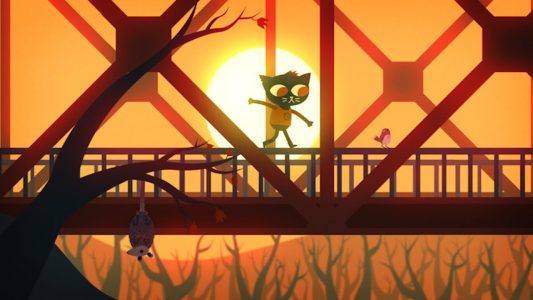 CONCEPT
NITW takes indie-game charm to the next level. Sure, it's got the necessities – silly graphics, sassy dialogue, and a simple complex. But this game uses your nostalgia against you. Though this game isn't strictly for those who have gone off to college, it tugs at the heartstrings of those who have. Oh, and you play as an anthropomorphized cat among her various anthropomorphized friends, family, and townsfolk.
So here's the gist: Mae, a recent college dropout, returns to her slightly-tragic hometown of Possum Springs only to find things have changed since the closing of the coal mines. Some things are found in the family attic, which leads you to the creepy woods nearby. The rest is for you to discover.
The first chunk of your gameplay will be leading Mae around her town and sulking with her as she notes the "used-to-be" places and people and the shiny new things infiltrating her memories. You'll find yourself being reminded of the one restaurant that closed down while you went away to school, or finding out over Christmas holiday that Old Man Curmudgeon passed away, so no one sells stamps under the table anymore.
GAMEPLAY
Though this game is simple and calm, it is obviously tailored for the elder-end of the millennial generation. NITW subtly paints the pictures plaguing us today: i.e. mental illness, decaying small towns, and dormancy in the economy for those nearer to the poverty line. The game is very progressive in its motivation and very soothing in its gameplay.
NITW doesn't focus on goals or "winning" as much as it tells a story, inviting you to write your piece. You are given small dialogue prompts to choose from, usually a to-the-point response versus unprecedented sass. This type of game is becoming increasingly popular as more social issues are being breached and begging to be discussed. Night In The Woods serves as a creative outlet to feeling and thinking about the taboo in today's society while also being constantly entertained by the silliness of the game.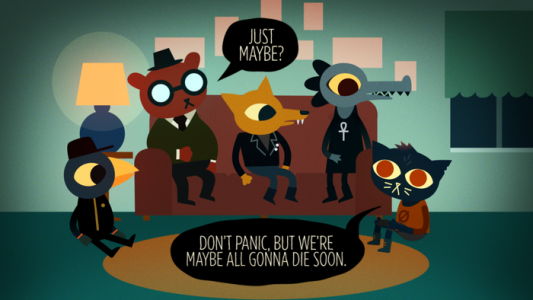 RATING
I'd give this game a solid 9/10. The graphics, music, dialogue, and overall concept are brilliant. The story line will have you losing track of time as you discover new components of a personal mystery. Of course, with every game there must be one factor that keeps it from a perfect score. To be very transparent, a good deal of contemplating was necessary to find a "negative." The only possible reason for someone not enjoying this game would be their age.
Anyone 18+ in today's society will be able to relate to Mae and fall in step behind her on her journey. Those who have yet to leave the nest might find it more difficult to relate, but I guarantee they would still enjoy the story line and creativity. Night In The Woods is currently available for play on Windows, Mac, Linux, and PS4 in North America, and will be available on February 28th in Europe.