Back in October Nintendo revealed their new console, the Nintendo Switch. On the 12th of January, Nintendo decided to have a presentation to explain more about their new console. The Nintendo Switch is a hybrid home/handheld console that enables you to play games on the television or on the unit itself using it's built-in display. You can also remove the edge controllers of the system, called Joy-Cons, and use those as two individual gamepads along with the screen set up on its kickstand. These three modes of play all run the same games with only minor differences.
Here is a rundown of what we now so far:
Price: $300
Release date: March 3, 2017
Where to buy: Up for pre-order now at stores like Amazon, Best, Target, and more.
Game prices:  About $60 for a new game
Online service: Nintendo Switch Online required for online mutliplayer. It will launch in full this fall, and it will require an unspecified monthly fee.
Backward compatibility: Your Wii U games will not work on Switch.
Specs
Display: 720p for handheld mode, 6.2 inches
Battery life: 2.5-to-6 hours depending on the game (Zelda will drain the battery after 3 hours)
Processor: Nvidia Tegra system-on-a-chip
Media: Game cards
Storage: 32GB built-in; expandable up to 256GB using SD cards.
In the box: Tablet, dock, left Joy-Con, right Joy-Con, Joy-Con grip, charging cable, HDMI cable, and two Joy-Con strap accessories.
Pack-in game: The $300 Switch configuration will not include a game.
Motion controls: The Joy-Cons include sensors for tracking motion and infrared sensors for sensing shapes. For example, it can detect when your hand is making a paper, rock, or scissors gesture.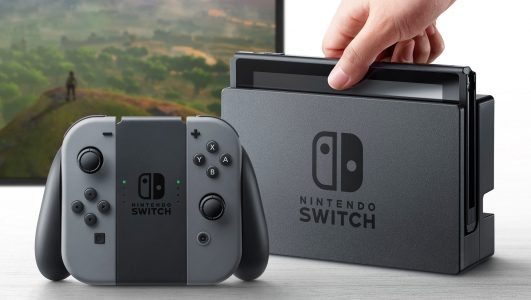 The Games
The legend of Zelda: Breath of the Wild:
When the Switch launches on March 3rd, the next entry is the Zelda franchise will accompany it. Breath of the Wild is an open-world adventure that looks more alive and dynamic then any other Zelda game before it. The game will also be on the Wii U and will launch on the same date. But a new Zelda is also a great way to justify spending $300 on a new console.
Super Mario Odyssey:
Nintendo also announced Super Mario Odyssey. It's to be a massive platformer  in the vein of Super Mario 64 and ventures into new territory for the Mario games: a realistic(ish) take on New York City. We don't have a specific release date set yet for the next Mario game, except that it will be out some time around Holiday 2017. That means we can likely expect it around late November or early December, to give people plenty of time to grab it for their Christmas stockings.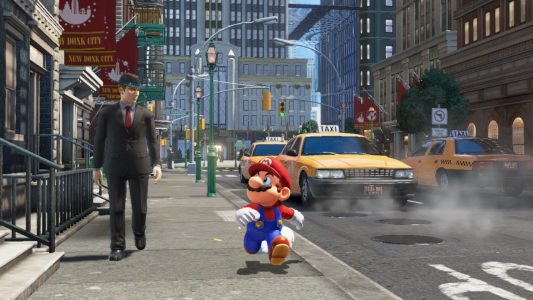 Nintendo also announced Mario Kart 8 Deluxe which is essentially a Mario Kart 8 port but contains new characters such as girl and boy inkling from Splatoon, Dry Bones and King Boo and features a new Balloon Battle and new tracks for Balloon Battle, Mario Kart 8 Deluxe is set to come out in April.
The company also announced Splatoon 2. A new sequel to the successful shooter on the Wii U. The sequel adds new maps, new clothes, new weapons and new specials for you to use to cover turf. It follows everything from the first game but since their is no gamepad, the map is no longer visible unless you press a button to get it on the screen. Splatoon 2 is set to launch in summer.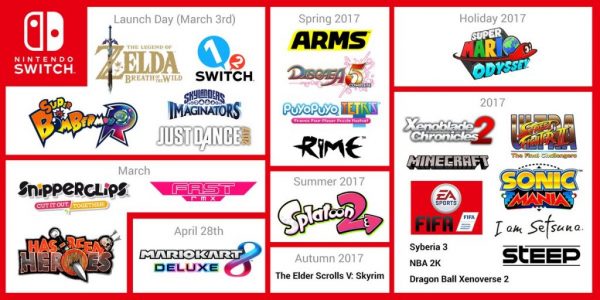 Will it be worth getting?
The Switch will only have 5 launch titles and the only big one being Zelda. It's a multi-purpose console for the modern gamer and putting the Wii U misery behind it feels like Nintendo is back to its best. The battery life when in portable mode seems anything but solid and its $299 price isn't exactly comforting especially when games are going to cost close to $60.
Longstanding Nintendo fans will probably love the Switch, and could surprise a few skeptics too.