Star Wars Rebels is back with The Antilles Extraction and with it comes a fan favorite from the original trilogy of movies for the series. Season 3 looks to be the season to bring back characters that are loved and at the same time is upping the intensity as the Rebel Alliance grows, while the Empire ups its attempts to gain complete control over the galaxy. Now strap in your seats and watch out for asteroids (spoilers) Rebels Report is jumping to hyperspace.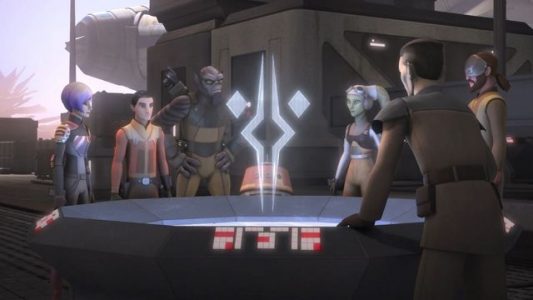 Infiltration
A fairly straight-forward episode, The Antilles Extraction was the first episode of the season that didn't mainly focus on Ezra and Kanan. While those two still play a big part, it is more as background characters waiting on Sabine to do her task. It was a lesson learning episode for Ezra where he had to learn to trust others to do their job while he waited in support. Not an easy job for him especially after his interaction with the Sith holocron where his powers might have grown, but so too has his impatience. This is not the first time we have seen this type of arc in Star Wars as we saw both Skywalkers have trouble with this lesson in the past and it usually ended in a bad result.
Leaving the Empire
This episode was the first time that Sabine got to really shine this season. Using her past skills as an imperial cadet, Hera assigns her the task of infiltrating and helping those rumored to want to join the Rebel Alliance a way to escape. We learn at the same time that Ahsoka wasn't the only Alliance agent to have the code-name of Fulcrum and it is based off of this agent's information that Sabine is sent in. While it was interesting to see Sabine in action, it seemed pretty easy to find out which pilots wanted out of the Empire. This was backed up by the arrival of Agent Kallus and Governor Pryce who already seem to know of the rumors that their are cadets looking to defect. When things look too easy they usually are, so when Sabine, Wedge and Hobbie make a break for it with another recruit during a training mission, things don't work quite the way they had hoped.
Rake and his tie fighter are taken out while the other three have their wings detached forcing Kanan and Ezra to abandon their rescue attempt. Things are not looking good for our three heroes when Wedge and Hobbie are taken to a cell and Sabine is to be forcibly interrogated. While those two plan a way to save Sabine, it is she that breaks free and rescues them. It looks like their escape is going to foiled again when Agent Kallus shows up, but he proves that there is more to him than appears and allows them to go saying his debt to Zeb is paid.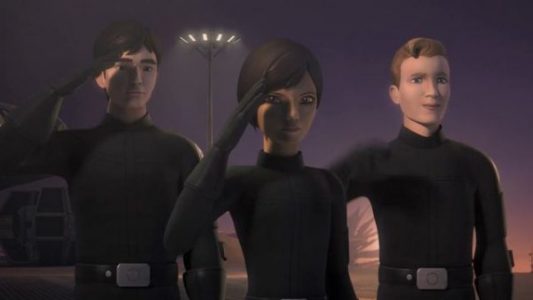 Star Wars Rebels is firing on all cylinders to start the season off and The Antilles Extraction is no different. The show has done a great job of balancing introducing old faces in a new platform, while adding depth to characters we've only come to know over the past 2 plus seasons of Rebels. There were several notable moments to take home from this episode. The first being that Sabine is a bad ass and can handle herself when things go wrong. The second being to finally see how Wedge and Hobbie joined the Rebellion knowing that those two alone will have a major role to come in the battles ahead. Lastly, we finally got to see that there is more to Agent Kallus than just being an Imperial stooge. Will he remain true to the Empire? Or will his honor force him to finally join the growing rebellion? Only time will tell but make sure to check back here to find out. Thanks for reading Rebels Report and we'll see you all again next week for the latest from Star Wars Rebels.