Try this concept on for size: professional wrestlers starring in action movies. Sounds like a no-brainer, right? The fact is success on the mat, whether it's labeled pro-wrestling or mixed martial arts—they are actually related despite misconceptions— doesn't necessarily translate to success at the box office as we've seen time and time again. Why is this so? There could be a number of reasons, ranging from the likability of the wrestler/MMA fighter to the script of the film they're starring in. In either case, both can be a huge hindrance in the successful transition from the mat to the silver screen; but only to an extent. At the end of the day, we all still buy what they're selling: They know how to hurt people…really badly.
The point then is that it's not completely impossible to go from professional wrestling—staged or not—to starring in action movies. The few that have managed to successfully transition from wrestling (and MMA) to action movies have managed to do so almost effortlessly while accomplishing two goals: gaining more interest in their former—or sometimes concurrent—career as well as attracting a huge following in Hollywood that translates to more roles. And, as a result of their successful crossovers, more nerds are born. Let's take a look at some of the more recent success stories of pro-wrestlers turn action stars. I'll bet you've heard of every single one!
Dwayne "The Rock" Johnson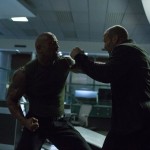 Former WWE Champion pro-wrestler The Rock is arguably one of the biggest names in wrestling history to ever successfully transition from the mat to the silver screen. His career as an actor has spanned fifteen years since his first appearance on Saturday Night Live with his fellow wrestling cohorts Triple H, The Big Show and Mick Foley. And though he has ventured into family friendly roles in The Game Plan and Get Smart, like his predecessors Hulk Hogan and Jesse "The Body" Ventura, the bulk of his roles have been action oriented, such as his roles in Fast Five, Hercules, G.I. Joe: Retaliation and Furious 7.
At this juncture, The Rock has left and returned to his former home at the WWE several times over the years, so it's kind of hard to tell for sure if and when he will ever completely leave the mat, either for Hollywood permanently or anything else. In the meantime, however, I suspect he will continue to give the people what they want: a taste of what The Rock is cooking! Sorry, I just couldn't resist.
Gina Carano
First Lady of MMA and former Strikeforce MMA Champion fighter, Gina Carano is probably the most recognizable face of female mixed martial artists, and for good reason. Not only is she beautiful and can kick some serious butt, she's also not too shabby as an actress; albeit her acting roles have all been action roles that display her amazing fighting abilities.
Since her first TV gig as a mentor on Fight Girls up until now, Carano has been steadily building up her resume of both film and TV roles. She's even received praise and quite a few accolades for her work in movies like Fast & Furious 6. But, to what end? That is the question on many of her fans' mind, both new and old, as according to several reports the former middleweight champion is still under contract with WWE—who bought out her old Strikeforce contract—for four fights. As a result, it is safe to say Carano's return to the mat is in fact inevitable. We just don't know when.
Dave "Batista" Bautista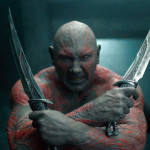 In 2014, former WWE Champion pro-wrestler and mixed martial artist Dave "Batista" Bautista made a splash on the big screen in the hugely successful Guardians of the Galaxy movie, where he played the very physically capable member of the group, Drax the Destoyer. A role his entire wrestling career no doubt had prepared him for. However, this was not Batista's first jaunt into film. Prior to leaving the WWE in 2010, Batista had acted in quite a few direct-to-DVD movies as well as a couple of big budget action films, namely The Man with the Iron Fists and Riddick.
In December of 2014, it was announced that Batista was cast as Mr. Hinx in the new James Bond film Spectre. This will mark his third major project since Guardians of the Galaxy and his second major project in 2015 up until this point. And while it is uncertain whether or not the purple belt in Brazilian jiu-jitsu will return to Strikeforce for any more MMA fights, it is more likely that his days of wrestling with the WWE are perhaps over.
Ronda "Rowdy" Rousey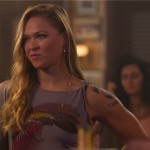 Current UFC Bantamweight Champion and last Strikeforce Women's Bantamweight Champion, Ronda "Rowdy" Rousey, is more just another pretty face. With an unprecedented undefeated record, she is not only known for her short wins—most of her bouts lasting less than one minute—to now co-starring in big budget action films; and she's just getting started.
In her feature film debut, Rowdy co-starred in the third installment of Sylvester Stallone's Expendables franchise; a film that helped put the renowned trash talker on the map in Hollywood. Since then, Rowdy has landed roles in both the upcoming Furious 7 movie—following in the footsteps of her widely publicized ideal opponent Gina Carano—and the Entourage movie. The only question is: how much longer will she continue to fight since Hollywood has come a knocking?