So, you're going away to visit family or just on vacation, but can't actually relax without your games within arms reach? I've got you covered. Here's what I usually pack to keep my game time running during layovers or just on the go!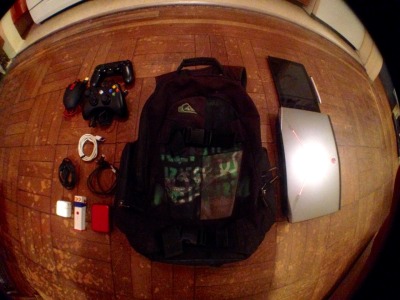 The backpack is essential, it is the cradle protecting your goodies from the perils of travel. Make sure all compartments are easily accessed in case you have to pull out your tablet or computer at a TSA checkpoint. Also make sure it can take some abuse. My bag has been through protests, riots, music festivals, heavy travel and it's still going strong.
Next up, you need to make sure you have enough juice for you phone and or tablet… or phablet. The Just Mobile Gum Charger can charge you phone 5 times over on a single charge, and I've gotten 2 charges on my smaller Ozaki D26 charger. Don't forget all the cords you'll need as well! Nothing worse than realizing you forgot a lightning cable.
If you're a pc gamer, a portable gaming mouse is a must have and a while back I reviewed the Reddragon Perdition mouse, and it is still serving me well today. I would recommend one with a braided cable since they are a bit more durable, although they can be a bit more bulky. Some PC gamers such as myself still prefer a controller when playing certain games. An Xbox 360 USB controller is a great and highly reliable controller. I also like using my PS4 controller bia bluetooth although this takes some tinkering and some games will require you to use programs such as Xpadder to remap controls.
Other small accessories I would recommend are a stylus for your tablet, some screen wipes, and some twist ties to keep those pesky cords under control!
Always make sure to keep an eye on your tech toys and don't forget them on the way to your gate! With well stocked travel bag, you can keep the gaming going in long drives or 10,000 feet in the air!