You Have 10 Seconds 2
Unless you watch Markiplier and a few various smaller YouTubers, you may not have heard about You Have 10 Seconds 2, but I can assure you it's both AMAZING and VERY addictive! As the second instalment of the series, in my opinion, it's definitely better than the first. For starters, it's essentially a beef-up of the first as instead of four areas with many levels, this game has similar levels and more with each area having a key focus, whereas the first edition had many of the new focuses in one area. But before delving fully into it, as you probably haven't seen or played this game, I'll explain it.
So, you enter the game and are greeted by some options. After you select to start the game, you find a hallway and of multiple locked rooms (except level one). You control a little square moved using the arrow keys. After you go onto a level, you then have 10 seconds to complete the level, which honestly didn't surprise me.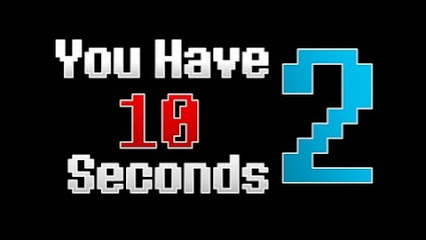 The levels start off easy with basic jumps onto blocks and over spikes, but it doesn't stay easy for long. You have much more complicated rooms with laser shooters and shrink rays in the levels to follow. Of course these things are just two examples. Another complication in the levels is that you have to start manoeuvring cleverly as some levels can be only completed with less than a second to spare so your runs have to be nothing short of perfect.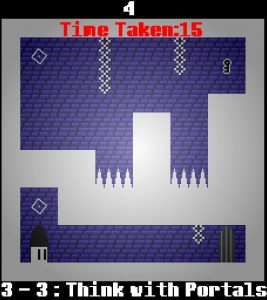 One of the reasons I love this game is that it will make you a little frustrated and sometimes angry but I didn't want to stop playing. It felt physically impossible to quit, although, I was getting really annoyed at this game on certain levels. Another reason I love this game is that even though it's fairly basic, it's just pure gold. It feels like a game that could have been made by anyone, but that doesn't take away from it in the slightest. I also enjoy the ability to change the colour of your character to many colours including red, cyan, green and more.
I don't really know what to say about so called "negatives" of this game because in my opinion, there isn't really any. The only thing that I would say that could be improved is adding more levels as the game really is good fun. I don't play too many platformer games, but out of the those I have, this is definitely one of the best.
There's not much else to You Have 10 Seconds 2 to be honest as it's quite straight-forward.  The only thing I have left to say is that you can play this game (and it's first edition) for free on Steam. You can also play it on a few various flash game websites. If you decide to play this game, enjoy. And if you decide not to play this game, you're probably missing out!