This year, Yuri!!! on Ice became an indisputable anime sensation. During its fall premiere, the anime outshone all other shows, and has built a huge and enthusiastic fanbase. Regardless how you feel about romantic comedies or figure skating, you cannot deny the hype surrounding the show. And, if you're like me – behind the curve, wondering, searching for the next big sleeper hit, expecting to find greatness in unexplored crevices – you may be asking what all the hubbub is about.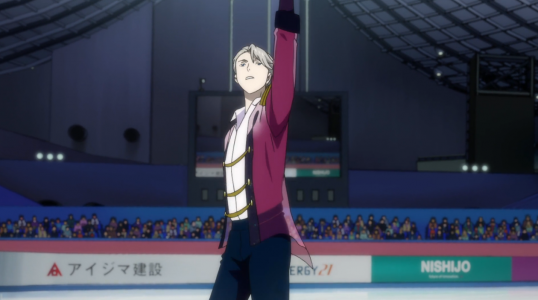 Down on his luck since bombing his chance at the Grand Prix Finals, Yuri Katsuki returns to his home Japan in search of motivation. When his figure skating idol and competition, Victor Nikiforov, falls into his life out of nowhere to become his coach, Yuri stretches himself to the limit to prove his worth to the world. In doing so, his relationship with Victor becomes complex if not intoxicating. Along the way, we also catch glimpses of Yuri's fellow competitors (most predominantly young Russian and rising star Yuri Plisetsky), experiencing everyone's lives both on and off the ice.
I won't pretend this anime is for everyone. If you're not into the more sentimental stuff or sports anime, there's a chance you may not take much of a shine to Yuri. But at least bear with me for another six hundred or so words while I explain why this show, at the very least, deserves a chance.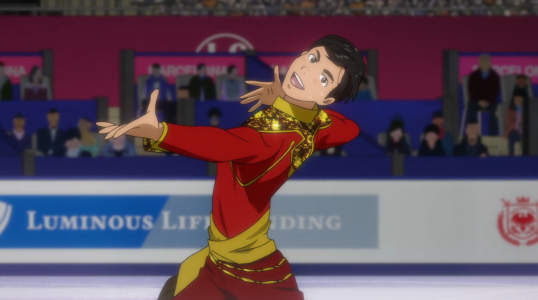 Quality
Right away we have to give Yuri!!! on Ice credit where credit is due – this show nails it straight across the board. Animation, art, story, characters, comedic timing – bam! It's all top-tier quality. Japan pumps out a lot of anime, and it can be tough to find a show with good storytelling resources. That's no fault of the studios either; moneymaking in the anime industry can be difficult. But MAAPA gets it done.
You can tell almost immediately how much love and care went into getting all the details just right. Not only is the animation for the figure skating drawn frame by frame with rigorous intricacy, but you know these writers have done their research. From the movements of the characters to every single piece of figure skating terminology you could possibly need, Yuri delivers.
And suddenly I know way more about figure skating than I could have ever anticipated.
The story is well-written and exciting. Not a single character is spared his or her most intimate examinations. The romance flows almost effortlessly. Yuri!!! on Ice came to slay and got everything right.

Representation
If I ever have more opportunities to talk about representation, I promise you I'll take them. Representation in the arts is wildly important. Representation is important to people's cultures, races, genders, and, in this case, sexual orientation. As it stands, same sex marriage is not yet legal in Japan. And while there is no huge social stigma against homosexuality, having a story that presents a gentle and heartfelt portrayal of a homosexual relationship is socially constructive.
Mild sexualization exists in the show, but it's mostly in reference to the art of the skating itself as an expression of sexuality. To put it bluntly, I felt more knocked over the head with the sexual themes in Izetta: the Last Witch than I did with a sports anime that doubles as a romantic comedy. The protagonists fully develop their relationship and their sentimentality feels genuine.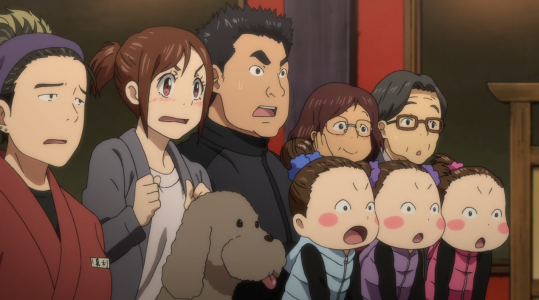 As a Fan
I don't often choose to review anime I have heard a lot about if only because I feel certain predispositions to like it. I frequent Tumblr a lot, and had seen a lot of hype surrounding Yuri. After finally giving it a shot, I could not stop watching. Like, still awake at 4:30 AM, couldn't stop watching.
I try to swerve anime that I know is good, because writing all my reviews about how much I like a show would be boring. The more I thought about it, the more I realized that I needed a show like Yuri!!! on Ice again. When I first began reviewing anime for the Noobist, it had been a while since I'd watched something that I loved as much as the shows I watched when I was a teenager. Watching Yuri!!! on Ice with its memorable characters, exhilarating plot, and heartfelt relationships, made me remember what it's like to fall in love with an anime.
So, if I ever get salty again while writing a review about sub-par anime, you only have brilliant shows like Yuri!!! on Ice to blame.