Greetings fellow Noobists!  Today we have something special for you.  Rift (a free to play MMO) is coming up on a brand new content patch.  We wanted to find out more about what was coming up, so we sat down, digitally, with Creative Director Bill Fisher.  He was kind enough to answer our questions.
In anticipation of 2.4's release, we are also running a giveaway.  We have several Infinity Edition Expansion Packs and  30-day Patron passes to hand out.  To get yours, use the Sites with Benefits widget on the right side of the screen.  Participate as much or as little as you want.  Just signing in will let you enter the contest.
The Noobist:  Rift has a new patch coming up.  What is it all about theme-wise?
Bill Fisher:  Our next big game update is all about the continuing saga of the Infinity Gate – and players continuing their journey into portions of the Planes.
The Noobist:  One of the big features of this patch seems to be the introduction of two 20-man raids.  What kind of challenges will players face with these new instances?
Bill Fisher:  The patch introduces a 20 player raid at the Infinity Gate – players will contend with a variety of planar menaces, and a storm empowered version of Volan.
Players will also make a foray into the plane of earth – to a location known as the Planebreaker Bastion and attempt to thwart the plans of the Architect queen.  I won't spoil all the fun, but the Planebreaker is shaping up to be a lot of fun.
The Noobist: I'm generally a solo player and don't get a chance to do group-based content very often.  Is there anything in 2.4 that would interest me?
Bill Fisher:  We have a new Chronicle version of Infernal Dawn coming with 2.4.  You'll be able to see sections of Infernal Dawn that you've never encountered as a solo player, and even be able to take on Laethys!  Sometime after 2.4 launches we hope to have a brand new Hammerknell Chronicle live on servers.
The Noobist:  Is there any new PvP content, or changes, which players can expect in the new patch?
Bill Fisher:  2.4 will contain new PvP gear and new PvP Ranks.  There is a pretty big PvP feature being worked on right now, but we are unsure if it will go live when 2.4 hits or come later – that's how development works sometimes.
The Noobist:  I think Rift Dimensions are one of the coolest aspects of the game.  Will there be anything new with them in 2.4?
Bill Fisher:  We are continually expanding the items available for dimensioneers and hope to keep doing so.  There will be new dimensions as well, including a dimension version of The Black Garden!
The Noobist:  Rift recently went Free-to-Play.  How has the response been?
Bill Fisher:  The response has really been amazing.  We've seen a massive influx of players, both new and returning.  We keep striving to make the game the best we can and we need to keep things fresh by adding new content for everyone.
The Noobist:  Pay-to-Win is a major concern when it comes to games going Free-to-Play.  How is Rift avoiding falling into that pitfall?  What kind of things will we not see in the store?
Bill Fisher:  We have very specific rules on what is OK and what is not OK to sell.  Our goal is to not have anything on the store that is Best In Slot and only acquired from the store for credits.  There are plenty of things that can only be earned by playing the game and we intend to keep it that way.
The Noobist:  Is there anything else you would like to tell the readers about Rift or its upcoming 2.4 patch that we didn't cover?
Bill Fisher:  We also have a new 5 player expert dungeon – the Realm of Twisted Dreams.  You can expect to see more foreshadowing of RIFT 3.0 as well.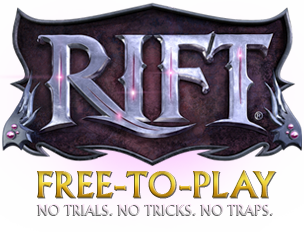 We here at The Noobist would like to thank Trion, and Bill especially, for sitting down with us to talk about their upcoming Patch.  If you're looking to try out Rift for the first time, or looking to return to Telara after a hiatus, click the link above to check out all they have to offer!