Todd Howard, Creative Director of Bethesda Games Studios, just took the stage at E3 and dropped a bomb of information about Fallout 4 during the Bethesda Press Conference. If you missed the live coverage on YouTube, don't worry. We caught a bunch of screenshots of the gameplay footage and information about the game as well as a few other truly exciting announcements. Howard started off by mentioning that Bethesda began working on Fallout 4 right after they finished Fallout 3.
Everything he revealed afterward proved the team at Bethesda has worked immensely hard to create an experience that matches what we're used to from the studio and beyond. You'll find the first half of the demo below and the rest of the announcements below that. But enough introduction, let's open this vault of post-nuclear hype!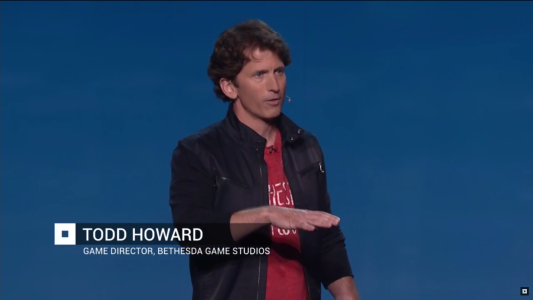 After announcing that Fallout 4 begins just before the nuclear bombings, Howard shows us a ton of concept art which you can view at the top of this page. We were then introduced to the character creation screen.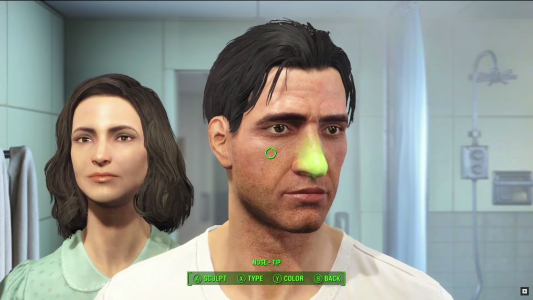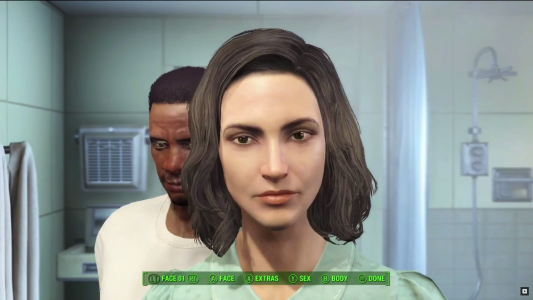 In Fallout 4, you start off creating a couple. Howard confirms you can play as a male or female character and adds that the game will create your infant child based on how you decided the couple to look.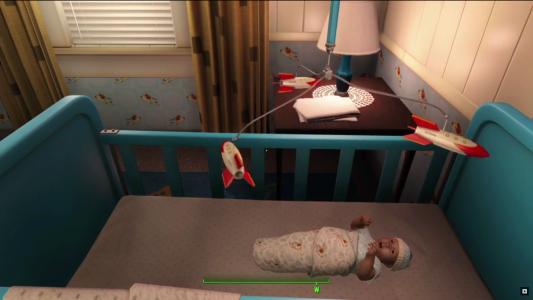 Not much was said about the leveling system, but we can guess from the screenshot below that Fallout 4 won't be following in the streamlined footsteps of TES V: Skyrim. At least, not entirely. The demo goes on to show a Vault-Tec surveyor knocking on the door of the player's house to ask some questions about how they'd like their character to be built from the start and what skills they'd like to be good at.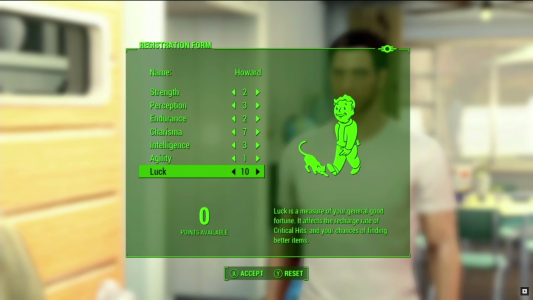 Sirens then begin blaring and you and your family are escorted to evacuation where you part ways with your significant other and child. The player character then awakens 200 years later as the only survivor of Vault 111.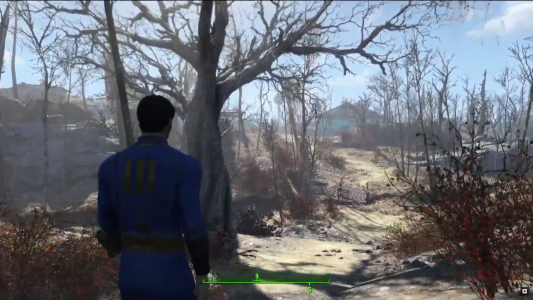 Fallout 4 seems like it's vastly improving on it's companion system. The next few scenes involve Howard's character finding a dog and commanding that it grab a wrench in a building nearby.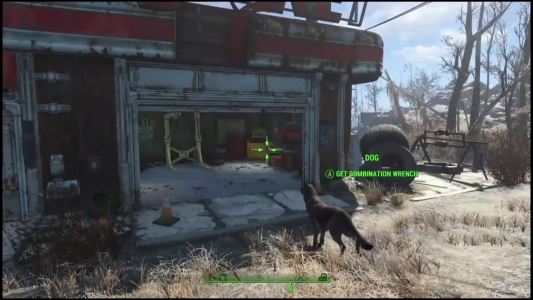 It's important to mention as well that throughout the demo, the player character has a voice of his/her own. This is definitely a first for the open-world creations that come from Bethesda. It will be interesting to see whether players feel like this helps or hinders immersion.
Despite some hoping Fallout 4 would ditch the V.A.T.S. system, it looks like it's a staple of the series that's here to stay. A mole rat springs from the ground to attack the dog and we're given a look at what is surely a new and improved V.A.T.S. system.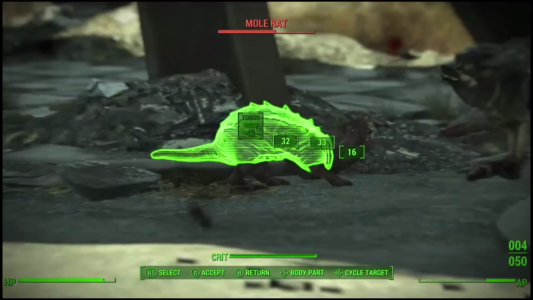 It looks like V.A.T.S. no longer pauses gameplay and instead slows it down significantly. This might help players embrace what was previously a relatively easy and non-threatening way to deal with enemies. Hopefully enough to ease the understandable concerns of Dave Thier.
Next, we got to see the new Pip-Boy 3000 in action. Howard shows us one of the new features that allows players to play games on the Pip-Boy.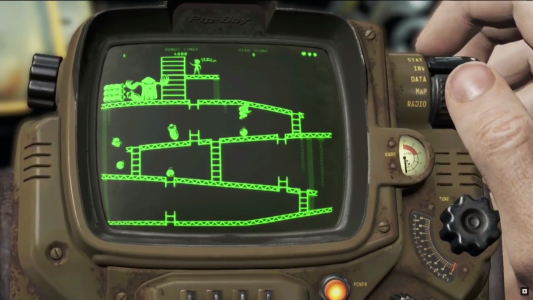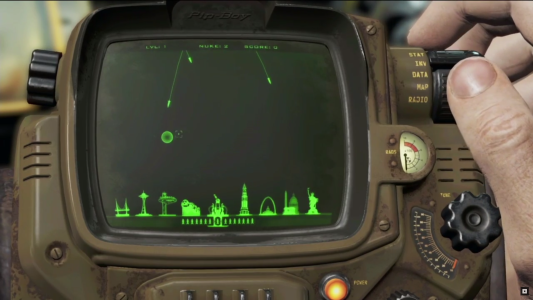 Howard takes a short break from the gameplay demo to announce a couple of amazing things that march along side Fallout 4. The first announcement is that the collector's edition of Fallout 4 will include a real Pip-Boy 3000. But that's not even the coolest thing about it. There will be an app for this device that you can download on your smartphone. Wait, just wait for it. You can also attach your smartphone to the Pip-Boy. And (yes, and) that app functions with the actual game. If that's not enough to make you forget about Jon Snow, I don't know what is. This is a big step in immersion for the single-player experience.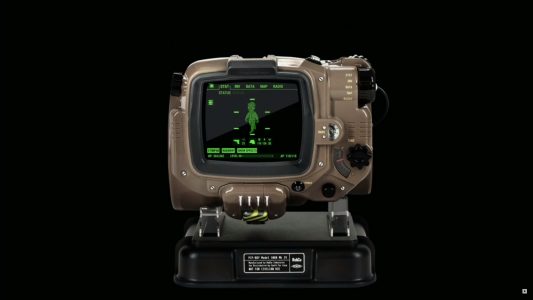 Howard added that some might feel this feature is really gimmicky, but "As far as stupid gimmicks go, this is the best fucking one."
The second announcement was for a mobile game entitled Fallout Shelter for iOS that is available now on the iOS App Store. In this game, you are the Overseer of your own vault. Inspired by games like Sim City, FTL, and Progress Quest, Fallout Shelter is a game where you control the stability of life in the vault, give your people jobs, and send them into the wasteland on quests.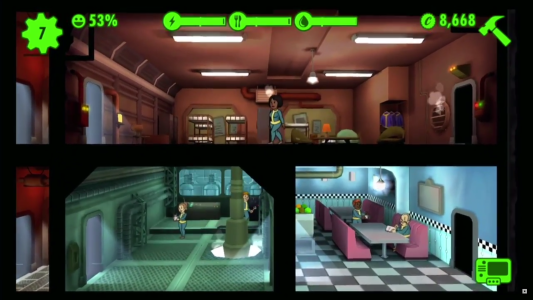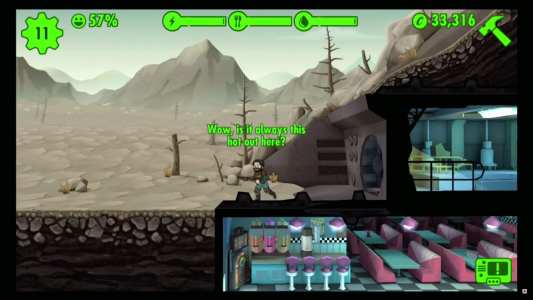 But that was not all. What Howard announced next about Fallout 4 definitely helps explain why the game is only releasing on PS4 and Xbox One. In Fallout 4, players will take more control over the world around them in a way we've only ever dreamed of in past open world RPGs. Using materials found throughout the Boston wasteland, players will be able to utilize workbenches to create their own buildings, forts, and communes.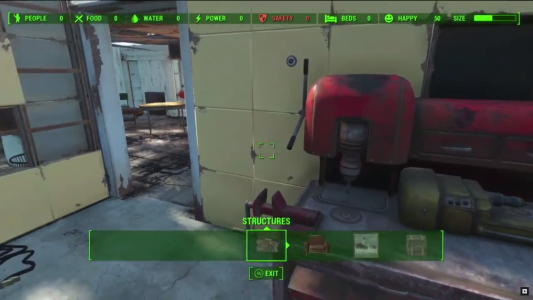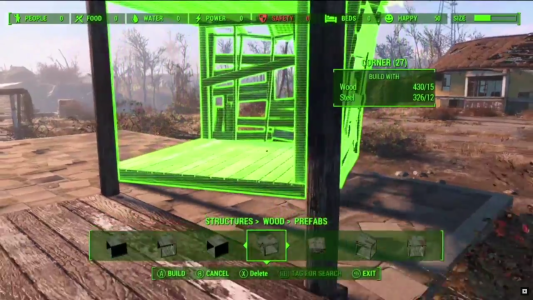 Players can set up vendors where NPCs can set up shop and sell items, grow their own food, and place power generators to juice their turrets, electricity, and other structures. The most next-gen thing about this, Howard promises us, is that players will be able to do all of this in real-time.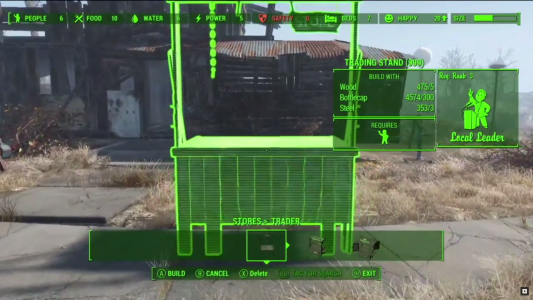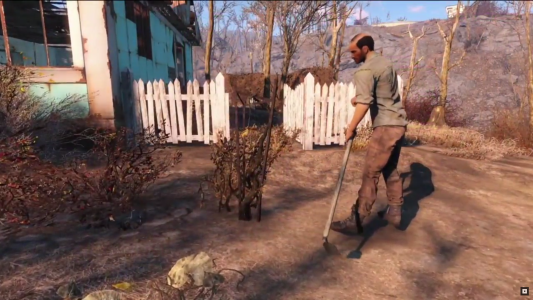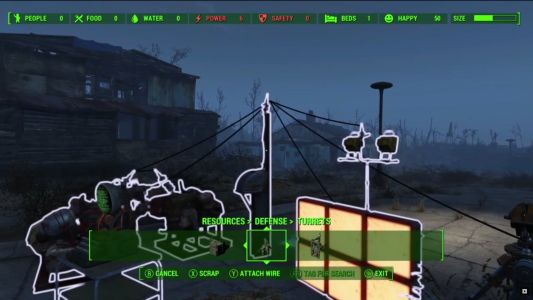 And just when it seemed to be over, Howard then showed us how the modding system works in the game. Don't you hate when you've found some useless item in a container that serves you no purpose other than selling it for maybe a few bottle caps? Well, in Fallout 4, players can break these items down to materials for upgrading and modding weapons and armor.
Howard boasts that there are over 700 weapon modifications players can craft. Here's a look at some of the modding in action.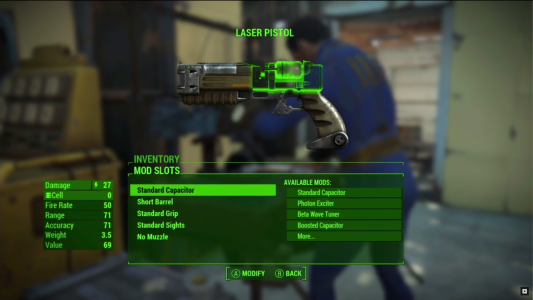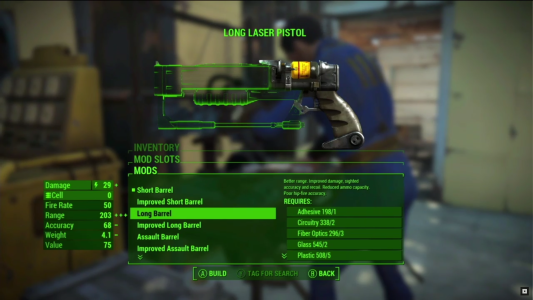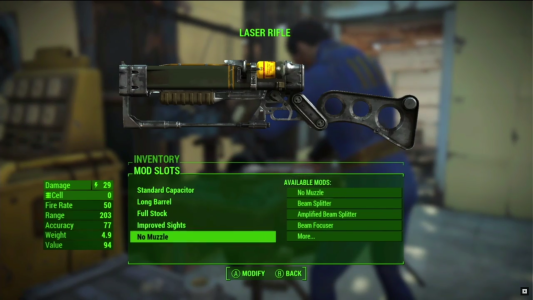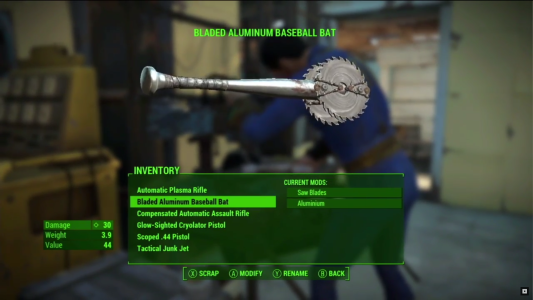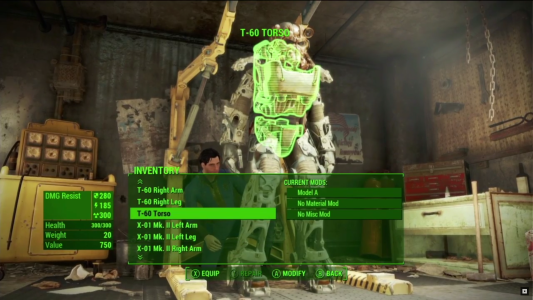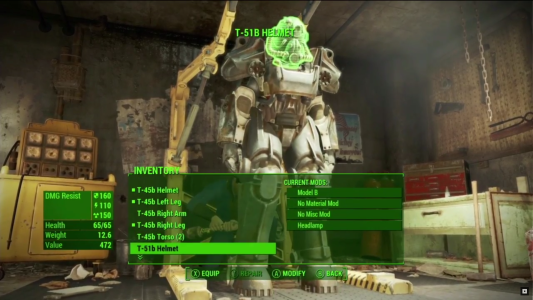 As if all of this wasn't enough, Howard has announced that the game's release date is no further away than November 11th, 2015. That's right, we won't have to wait more than a year before getting our hands on arguably the most anticipated video game title in the last few years. So, start putting in those time-off requests and writing your farewell letters to your loved ones. The Boston Wasteland is coming.