The Corsair Vengeance K70 RGB that has been eagerly awaited by many, after being pushed back multiple times  is finally here!
Upon removing my new K70 from its cardboard encasing, I immediately noticed the care and quality that went into the production of this keyboard. The black brushed aluminum platform is elegant and subtle, especially compared to many other gaming keyboards out there. The black braided cord features two USB connections (which can be a downer for those limited on USB ports). The plastic hand rest that clips into the bottom feels sturdy and is comfortable during use.
This new keyboard also features 100% percent anti ghosting, a BIOS selector switch for increased compatibility with different systems, and exclusive Cherry MX switches. We've seen Cherry switches in backlit keyboards before but these switches have been redesigned with the longevity of your device in mind.
The LEDS featured in the new K70 are much less susceptible to failure caused by static shock. Corsair boasts a possible 16.8 million color options using their new open software also available for download as of yesterday.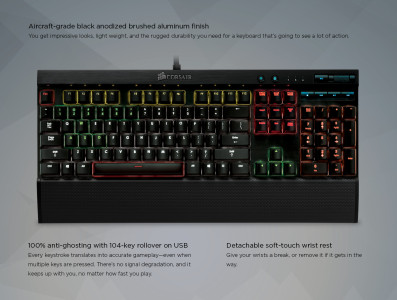 After downloading Corsair's software my new keyboard was instantly recognized, its media keys immediately reacting to every media player on my PC. For those seeking a simple color layout, the new customization software is quick and easy to use. For those who wish to deck out their keyboard with the extravagant lighting styles we have been teased with in online videos and previews of the new Corsair RGB keyboards, it takes a bit of tinkering.
As my first fully customizable keyboard, the task of programming everything felt a bit daunting at first, but  after poking around, you can find your way, which comes with it's own sense of satisfaction. The possibilities are endless once you begin to really play with all of the different color options and play modes available.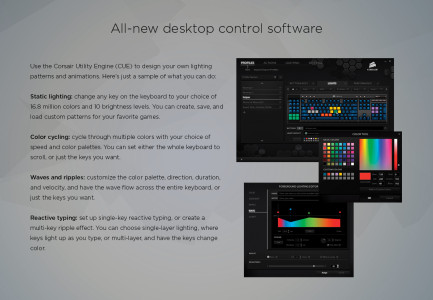 The keys on this particular keyboard are raised noticeably more than usual, an aesthetic choice. For those with looks in mind, the higher profile of the keys allows a brighter glow, really making the colors of the LEDS pop. When it comes to typing however, I found myself making a lot of typos, accidentally hitting the wrong key due to the raised profile.
A few minutes however, and any typist or gamer can adapt and the height quickly becomes completely unnoticeable. This issue is something that owners of previous iterations of this keyboard will already be used to. Another annoyance I have found with the K70 RGB is the height difference between the number pad, and the media keys just above it. I found myself hitting one of the keys in the upper row as I went to change a song.
This is a bit harder to adapt to since users will hit the media keys maybe once every three or four minutes at most if they are listening to music while multitasking. The repetition is not as frequent as typing, therefore adapting to it and knowing to reach over the raised keys of the num pad will take a little longer to get used to.
Perhaps this may have been remedied by either raising the media keys or perhaps tilting them a bit towards the user. On the subject of the media keys, they feel every bit as sturdy as the rest of the keyboard and one feature I adore about this keyboard is the metal textured volume roller, which fits well on the aluminum platform.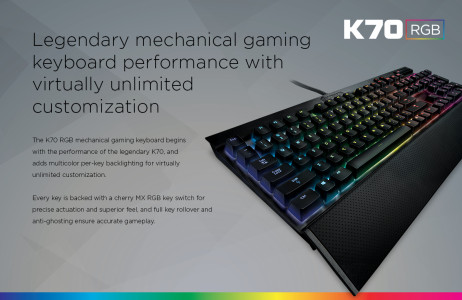 After doing some casual typing, and also some fast paced gaming, playing titles such as Skyrim, Path of Exile and even some Titanfall,  I feel this keyboard has something to offer for everyone. For the hardcore gamer, quick response times and customizable light modes highlighting your in-game hotkeys can truly help you up your game.
For those seeking some flash to show off, which is understandable after how much we tend to spend on PC gaming setups, there is a lot to be found here. Some small things that are still noticeably missing however, are the interchangeable WASD and 1-6 number keys previous iterations have shipped with.
Regardless of the small issues I had getting used to this product, the quality and attention to detail that comes with the Corsair name is definitely present in the K70 RGB. I would definitely recommend this product to others, although for people seeking a smaller keyboard sans the num pad, I would wait for the K65 RGB coming very soon.
For gamers looking for more programmable keys, the Corsair Vengeance K95 RGB has also launched and is available for purchase.