Now available on the Xbox One is the demo for Forza Horizon 2. It is about 10.5 gigs in size and has just a portion of the roadways available to drive on. You will start off with a couple of race events and a special event before you are allowed to wonder freely around the available landscape. The main three cars you can drive in the car are a Mitsubishi Lancer Evolution X GSR, Audi RS 3 Sportback, and a Bowler EXR S. You also get short stints in a Koenigsegg and a Lamborghini. You can play around in the online mode by switching from the main menu instead of the advertised one button switch that will be available in the full game.
The new weather effects are on display. Rainstorms include thunder and after a rainstorm ends you can even sometimes see a rainbow appear. The rainbow effect seems a small touch, but it was surprisingly cool. Wet weather definitely has an impact on grip though not quite as much as real life. As promised you can now wonder off the beaten path through fields and the woods. You can plow through a lot of things but watch out for houses, trees, and concrete fence lines as they will stop you dead. There is definitely more chances to catch air in the varying levels of terrain, so expect to roll your vehicle a lot more. Venturing off road in a super car in harder to control than the Bowler, but ground clearance is obviously not taken into account.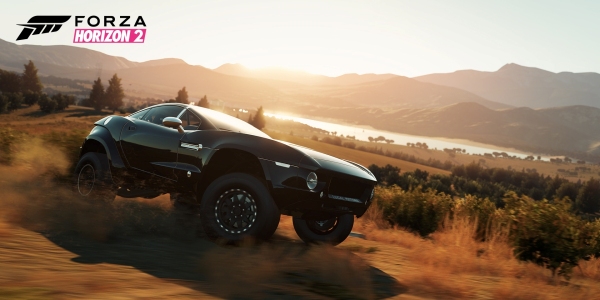 As with the first Horizon, this feels more akin to a new Need for Speed Underground than a racing simulator. So if you just want realism, this is not your game. The off road option now gives us a chance to get some of those Dukes of Hazzard pictures that we could not get before. If you see Holleywoodsal on the road this holiday season remember, I drive them all like I stole them while texting my friends about my getaway.
Disclaimer:  Noobist.com and Microsoft do not endorse virtual texting and driving.