In an industry saturated with juggernaut franchises like Call of Duty and Assassin's Creed that suck the life out of the room, it can be hard for new and small indie developers to catch a breath. Video games cost an exorbitant amount of time, effort, and money to produce, and not every title is guaranteed that "Minecraft money" at the end of a development cycle. Indie developers don't just need to make a good game, they need to take advantage of every possible resource that they can get their hands on in order to get their game out to the public.
Gameacon is one such resource. Held this past weekend at the Tropicana Casino in Atlantic City, Gameacon is an opportunity for indie developers to show off the games that they've been working on to their potential players. Indie developers can also learn from industry experts and other indie developers about how to succeed in such a competitive and unforgiving industry.
Panels & Discussions
Among the speakers present at the event were Jon Jones, Content Curator at Epic Games, Nick Landry from Microsoft, and Andy Hess from Unreal. The panels and roundtable discussions ranged from topics like art direction in games, how to develop prototypes, and even a panel where indie developers could pitch their game ideas to industry veterans. I was pleased by both the speakers and the attendees; the presenters were extremely knowledgable and helpful, and most of the questions that the audience members asked were far more complex than "Which is better, Fallout 3 or New Vegas," or "Why do you think Metroid is the best Robot?"
The talk that I found most interesting was the "Understanding the Business of Games" Panel discussion, led by Rachel Presser, CFO/EP of Himalaya Studios and owner of Sonic Toad Consulting, and Tim Train, CEO of Big Huge Games. Both Presser and Train spoke in great detail about their experiences in the games industry and shared their insight about the ins and outs of the gaming industry.
"[It's] very hard to get capital," said Presser. "Many indies don't know the business side of the industry." It's common for indie developers to bring talent and a vision to a project, but it's rare that they succeed on every front of the game-making business.
However, according to Train, the keys to success in the games industry might lie in other mediums; Train believes that the practices of companies within the TV, film, and music industries are very similar to those in video gaming. "PC gaming is like cable TV," stated Train. There are so many different outlets and mediums that cater to the specific needs of the diverse audiences that make up video game fandom that finding and filling an otherwise ignored niche is a sure way to success. On cable TV, "you can have the Hitler channel and you can have the shark channel," just like in the games industry you have things like Steam, GoG, and other such retailers. In an industry so saturated with content, developers have to find ways to innovate in order to capture an audience. However, since video game audiences can vary in tastes in preferences so drastically, its easier for potential developers to find players who would love to player their strange and bizarre types of games.
The gaming industry is such a complex and unforgiving environment, making the insight of a few successful industry veterans extremely valuable. Hopefully their advice will help some indie developer out there create the next Minecraft and steer him / her away from making the next Flappy Bird.
The Games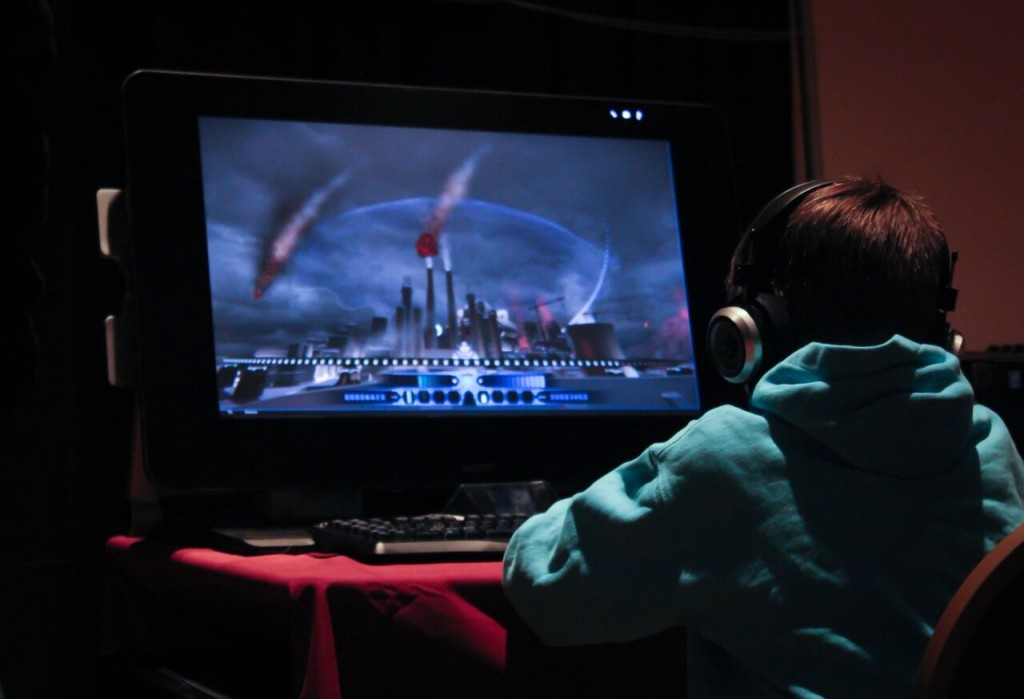 Even though I didn't get to spend a ton of quality time with every developer and every game on the show floor, there were a few that left some good impressions. Games like Galactose: Pastries in Space from Zero Eden Games and Space Cats in Space! from Robotic Potato had good senses of humor and left a bizarre but positive impression with me. Other games, like Computer Lunch's Swingers, impressed me because of their impressive use of new VR technology.
My favorite game of the show were Squad of Saviors (SoS) by Zack Zhang, a two-player cooperative stealth shooter. Think of SoS as sort of Hotline Miami mixed with a little Tron and Splinter Cell;  You and your partner traverse a machine-controlled world as the last two sentient human beings; your goal is to destroy the robot menaces that have taken over humanity. I had a lot of fun with it and can't wait for the release!
If you want to find out more about any the games that I mentioned or about all of the other games at the show, a full list of all of the exhibitors at Gameacon can be found here.
Cosplay, Tournaments, and Other Fun Stuff
There were a few tournaments held, in addition to some friendly matches, throughout the course of the weekend that had players kicking the crap out of each other in games like Super Smash Bros Melee, Smash 4, and Ultra Street Fighter 4. There were also a few smaller stations where everyone could just chill out and play a few rounds of Mario Kart 64 or Street Fighter 2 for the SNES.
If you survived the the long hours of the day, there was also a cosplay contest towards the end of the show on Saturday where anyone could compete and show off their costumes; some costumes of note were Batman, Harley Quinn, and Jinx from League of Legends. There were also a number of after parties and hangouts where all of the exhibitors and attendees could escape from a day of business and promotion and just chill out.
Overall, I was very pleased and impressed with my time at Gameacon; with all of the big-budget triple-A titles that we hear about all the time, it was a nice change of pace to see some smaller games and the people behind them. It really helped add a human element that I don't always see with a lot of major releases, and it made me appreciate how much time, effort, and creativity that go into even the smallest projects.
Thanks to the folks over at Gameacon for having me over there, I had a great time!