Independent Developer Lightbulb Crew announced this morning that their debut gaming effort, Games of Glory, has officially gained additional investor funding thanks to a great deal of fan feedback and support. As such, the kickstarter campaign for the sci-fi genre-bending MOBA (Multiplayer Online Battle Arena) has been cancelled after being launched a mere two weeks ago. Says studio founder Anders Larsson:
 I am excited about the support from new and existing fans, which has been the key to securing the financing to make Games of Glory a great game. We are continuing to develop the game together with our community and would like to thank everyone who has made this possible by supporting us. We look forward to releasing Games of Glory with many advanced features.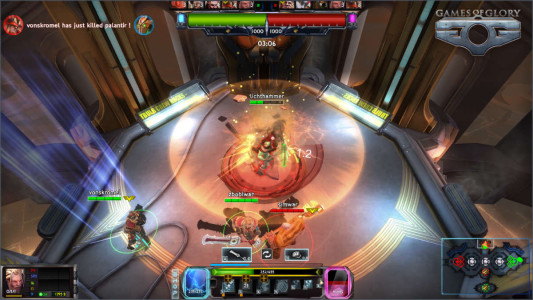 In Games of Glory, players will be thrust into intense arena style battles that will decide the fate of the Galactic Empire, known as the Synarchy. The game features over 40 weapons and a gameplay style that combines hack-and-slash mechanics with FPS-style free aiming. There is also massive E-Sport support, where players will be able to go in and take on different assigned roles such as star player or recruiter.
Backers who supported  Games of Glory throughout its campaign will still receive the promised incentives, including a kit that would give them early access to the full version. They can also maintain a version of their original pledge through Games of Glory's website until August 21, the original end of the Kickstarter campaign. All interested players are also encouraged to join the games official forums and vote for the game on Steam Greenlight.