Two summers ago Cookie Clicker was launched, and with it came the rise in popularity of incremental games. The games draw a wide audience because of their simplicity: click on object, gain currency, use currency to gain more currency, go for the high score by amassing as much currency as possible. They also draw the more intense gamers who enjoy figuring the game out, plotting out the most efficient path to virtual riches.
Some say that their lack of real gameplay and unending nature make incremental games less than fulfilling experiences. Others enjoy hours spent clicking on a giant cookie. I fall somewhere between the two camps but I recognize that the games can provide some simple entertainment during short downtimes.
So, what makes a good incremental game? I look for a few key features:
Offline progression – I don't want to have to keep the game open to progress. I want to earn currency while offline and check in once in a while to spend it.
Resets – A major part of idle games is the ability to reset your progress back to zero and gain a permanent buff for future playthroughs.
Mobile friendly – When I'm at my PC I'm either working or looking to play a more involved game. I play idle games when I have a few minutes here and there, making a smartphone the perfect device to play on.
If you're looking to see what the incremental game buzz is about, or just looking for a new one to scratch that idle itch, these are my personal favorites.
Clicker Heroes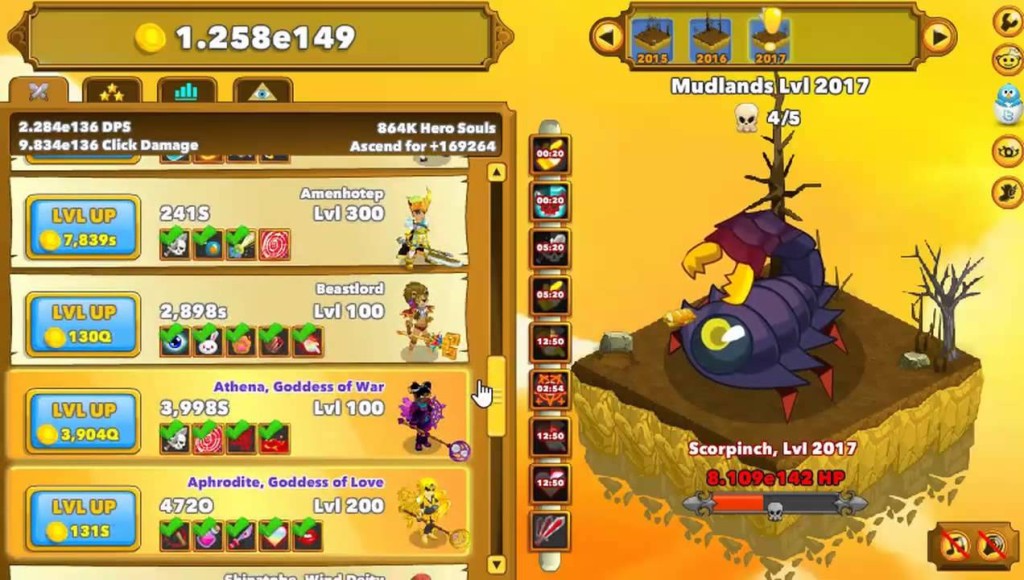 Offline progression: You gain gold offline but do not advance through zones.
Resets: Yes
Mobile Friendly: Yes
Clicker Heroes, with more than 18,000 Steam reviews and 400 ratings on the App Store, is one of the more popular incremental games currently on the market. The game is adventure RPG themed, you click to defeat monsters, allowing you to progress through the game's zones. Every five zones you face a boss who you must defeat within a certain time limit. Each monster you defeat drops gold, which you can use to hire heroes to deal damage passively.
As you hire heroes and defeat monsters you gain hero souls, which you must reset the game to claim. Hero souls, like most games' reset currencies, passively increase your DPS. You can also spend them on purchasing and upgrading Ancients, who provide more unique benefits, such as increased idle damage, shorter skill cool downs, or longer boss fight timers. Players can also gain hero souls by joining a clan and collaborating to defeat Immortal bosses. Players will also gain a relic each reset and must determine which relics have bonuses worth keeping.
The variety of decisions to be made and social features of the game help it stand out from other idle games. The only thing holding it back is the fact that you do not progress to higher zones while offline. The gold you gain while offline makes it easy to progress when you do check on the game, but you are forced to keep the game open to progress to higher levels. This issue is especially noticeable on the mobile version of the game.
AdVenture Capitalist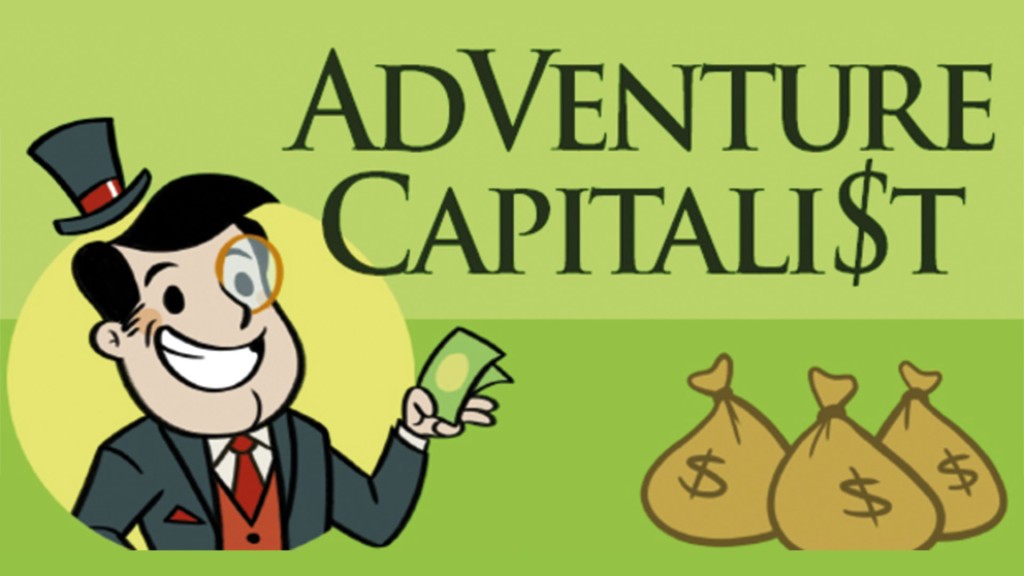 Offline progression: Yes
Resets: Yes
Mobile Friendly: Yes
Aspiring entrepreneurs will enjoy this game which takes you from running a small lemonade stand to a lunar business empire and beyond. Clicking on a business causes it to start working and eventually produce a profit. Each business takes a different amount of time and produces a different amount of profit. As you build more of a single business type their profits and speed increase. You can hire managers to automate your businesses to make the game completely idle.
AdVenture Capitalist
is a more basic game than Clicker Heroes but that is what makes it shine. It takes minutes to go from zero to fully automated and from there all you need to do is check in to buy more businesses, purchase upgrades, and occasionally reset your game by selling your company to acquire angel investors that boost your future company's profits.
Adventure Capitalist shines because it takes minutes to go from zero to fully automated, making it the perfect game for playing in short bursts. Add in the unlockables and the ability to fund missions to the moon/mars to unlock new businesses and you have plenty of reason to keep coming back.
Prosperity

Offline progression: No
Resets: No
Mobile Friendly: No
You might notice that Prosperity misses all of the factors that I look for in an idle game and wonder why I include it. I list it here because Prosperity is a different beast than most incremental games because it has a story and an ending. You wake up in a cottage, dizzy and confused. As the people who own the cottage ask you questions to establish your backstory the cottage is attacked and burned down. You wind up in the woods with the daughter of the cottage owners, forced to hunt to survive. Over time you build up a settlement and have the opportunity to defeat the local warlord and free the people of the land.
Prosperity involves intense resource management as you need to produce raw materials to turn into finished goods that you can use to build your settlement. You also need to keep your citizens fed, happy, and healthy through the changing seasons. Random events keep things interesting and provide opportunities for your settlement to thrive or to stumble so making good decisions is key. If you enjoy the resource management that goes into 4X or simulation games Prosperity is worth a look.
Idleplex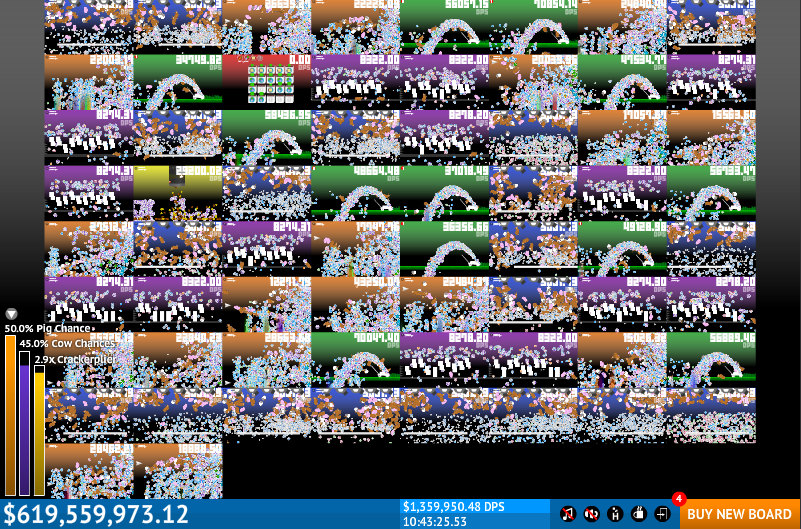 Offline progression: No
Resets: No
Mobile Friendly: No
Another game that misses the three criteria I look for but makes the list is Idleplex. With Idleplex you get to play an idle game about playing idle games. You start with "Extreme Brickout" where the objective is to bounce an object without dropping it. You can play it actively or let it play itself. Once you earn enough cash, you can buy another idle game, such as "Extreme Star Shooter" or "Extreme Animal Jumping." Each game can be played actively or left to its own devices. You can upgrade individual games to increase their income, allowing you to purchase more game boards. Eventually you can have more than 100 idle games playing themselves at once.
The actual gameplay of Idleplex is not overly interesting, but its apparent commentary on incremental games makes it worthy of note.
Incremental games are not the most intricate of games and are ultimately a little bit silly, but they are a good way to pass the time during short breaks where getting into another type of game would be difficult.