Taggerung: Two days ago, when I first heard that Riot and American Express were teaming up to bring Riot Points to gamers with a specialized American Express debit card, I was intrigued. Then, when I saw that you received 1,000 RP for just signing up, and that there was no activation fee or minimum balance, I was really impressed. I regularly buy RP, and the only way to get some for free was to have 10 friend referrals reach level 10 in League, and even then you would only get 975 RP. So to get 1,000 RP for practically nothing seemed like a dream come true. Gaarawarr and I both spent some time talking about it and agreed we wanted to dive into the details once they were released.
Today with all the information released, Riot and American Express are touting a virtually free 13,000 RP just to sign up and use the League of Legends debit card. Furthermore, they are offering several benefits including Roadside Assistance and access to presale tickets in major American cities. To put that in context, buying 15,000 RP will cost you $100 and 7,200 will cost $50. 13,000 RP means buying at minimum 13 of the 975 RP champions. You could easily buy 20 or 30 of the less expensive Champions. With a total of 114 in the game, that's roughly 25% of the total Champions available. If you don't have unlimited amounts of money to pick up Champions, then this promo looks like the way to go.
Gaarawarr: At first glance the other day, I looked at the Serve/RP+ card and instantly went "OMG I WANT THE TEEMO ONE!!1 FREE RPS!1!! SWEET!1!" However, I'm always a bit dubious when I see credit/debit cards sponsored by companies offering bonuses that apply only to them. There just always seems to be a downside and at times it is a gigantic one. So when the official information came out today, I wanted to do some math and take a look at some of the fine print in regards to this pairing of Riot and AMEX.
Before Serve/RP+, the primary method of obtaining RP was via the League of Legends in-client Store. Riot currently offers six different RP packages in $5, $10, $20, $35, $50, and $100 amounts. The more you pay, the better your RP-per-dollar ratio. You get 130 RP-per-dollar with the $5 package compared to 150 RP-per-dollar with the $100 package. (Pre-paid cards are also available from retailers in $10 and $25 increments at similar RP-per-dollar ratios as the in-game Store.)
Let's look at what RP+ offers as initial bonuses when you start your account. Just signing up for your card earns you 1,000 RP. The first time you load it with $20 or more, you earn an additional 1,000 RP. Setting up your card to receive Direct Deposit from your employer and loading your first $20 or more that way earns you a whopping 10,000 RP (That is, if your employer allows Direct Deposit like this. Additionally, it can take up to two payment cycles for this to take effect, meaning you won't see money on the card from this for up to a month). Finally, each of your first ten purchases using the card will earn you 100 RP each for a total bonus of 1,000 RP.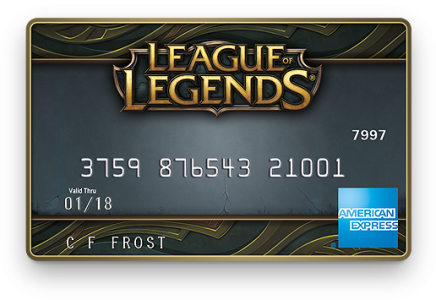 After you've completed your initial ten transactions with the card, you then settle into your actual RP earning rate. This is a threshold-based system functioning off $3 intervals. The initial amount is 1 RP for any purchase up to $3. The next interval is $3.01 to $6. Any purchase inside this interval gets you 2 RP. The intervals go up in these $3 brackets with each bracket adding 1 RP to your reward.
What do all those numbers mean? Well, if I wanted to maximize my RP-per-dollar ratio, the initial bonuses that come with Serve/RP+ do that better than any of Riot's regular offerings. Hypothetically, if I were to sign up for my card, set up Direct Deposit from my employer for $20 as my initial loading of the card (thus combining both bonuses and getting 11,000 RP at once which is allowed in the fine print), and then making ten separate $1 or less purchases at various local stores, I could get 13,000 RP for around $10 (leaving $10 on the card to use as I wish). This comes out to 1300 RP-per-dollar. In the in-game Store, a similar amount of RP would cost around $87.
However, after all the initial bonuses are completed, the RP+ program quickly shifts from a flood of RP to a trickle. Your RP-per-dollar ratio on all purchases after the initial bonuses are earned drops through the floor. The best you could ever hope for is a 100 RP-per-dollar ratio but that would require you to make one hundred $.01 purchases. Good luck finding anything to buy for $.01 nowadays, even if you wanted to go through that type of hassle. Not to mention most stores probably wouldn't be too happy with you either. Realistically, you're going to earn less than 1 RP-per-dollar barring any future promotions.
Keep in mind, all of the math around the bonus RP is based on using Direct Deposit straight from your employer (or any Federal or State government benefit or payment, which opens up a whole new conversation for us). If you can't, or won't, do this, all the numbers change. You automatically lose the biggest initial bonus: 10,000 RP for Direct Deposit. This drops your bonus to 3,000 RP for $10. Considering spending $10 on a $10 package in-game gets you 1,380 RP, this is a decent bonus to start, but nowhere near as amazing as before.
All of that math only works if instead of Direct Deposit, you're loading your card via a checking account, credit card, or debit card. All of those methods come with no fees. If you want to use cash, welcome to the fee-zone. Currently, the Serve card can be loaded with cash only via middle-man services like Green Dot Moneypak and Vanilla Reload. Each of these are cards you buy at a local retailer, usually in pre-loaded amounts. Vanilla Reload cards are the cheaper of the two initially, coming in at a $3.95 fee for initial purchase of your card but then requiring another $3.95 every time you reload it. The Moneypak card comes in at $4.95 for the initial purchase of the card, but you can then reload it via Walmart's Rapid Reload for only $3.74 each time. If you have access to a Walmart, then the Moneypak card becomes the cheapest option after 6 reloads. On average, you're looking at around $4 per reload of your Serve card.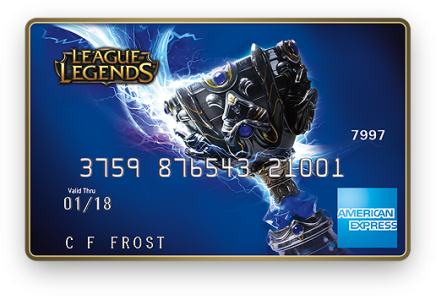 There are even more limitations to the cash-only user. Using this method requires a minimum of $20 to be loaded and a maximum of $500 loaded this way in a single use. No more than $5,000 can be loaded onto a Serve card in this way each month as well as a daily load-limit of $1,000.
As if the idea of loading a pre-paid debit card via another pre-paid card wasn't enough to make you cringe, this also throws a new wrinkle into our previous math: a continual fee. With continual fees like this, the most financially efficient way to add money to your Serve card is in $500 increments as that only incurs one fee.
But what about all the extra benefits associated with having an AMEX card that come with Serve/RP+? Well, let's look at those "benefits" one-by-one.
First up is Purchase Protection. This protects purchases against accidental theft or damage for up to 90 days. Of course, this comes with a long list of exclusions which includes, but isn't limited to: travelers checks, tickets of any kind, negotiable instruments (including, but not limited to, gift certificates, gift cards and giftchecks), cash or its equivalent; animals or living plants; rare stamps or coins; consumable or perishable items with limited life spans (including, but not limited to, perfume, light bulbs, batteries); antique or previously owned items; motorized vehicles and watercraft, aircraft, and motorcycles or their motors, equipment, parts or accessories; stolen or damaged property consisting of articles in a pair or set. Coverage will be limited to no more than the value of any particular part or parts, unless the articles are unusable individually and cannot be replaced individually, regardless of any special value they may have had as part of a set or collection; items purchased for resale, professional, or commercial use; permanent household and/or business fixtures, including, but not limited to, carpeting, flooring and/or tile; business fixtures, including, but not limited to, air conditioners, refrigerators, heaters; and hospital, medical and dental equipment and devices.
You also need to have your original receipt. Just saying.
Next up is Roadside Assistance. This isn't actually roadside assistance in the way most people think of it. It is simply a 24-hour hotline you can call that will set you up with someone that will get you real roadside assistance at a previously-arranged rate. Yes, you have to pay for any services yourself. The only thing free is the phone call to "Roadside Assistance" and them directing someone to your location.
Global Assist is a lot like their Roadside Assistance. They'll hook you up with a third-party at no cost to you, but you have to pay said third-party for their actual services.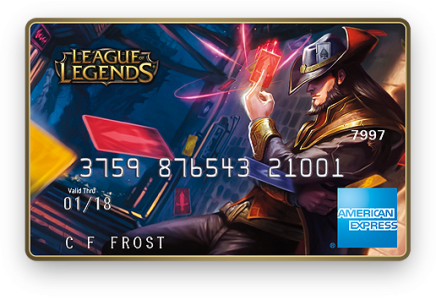 The last bastion of hope for these extra "benefits" is Entertainment Access. This is basically an entertainment ticketing service that offers up AMEX cardholders special deals. However, along with the usual mentions of blackout dates, being subject to availability, all sales are final, and so on, it's also only available in the following areas: Atlanta, Boston, Chicago, Dallas, Detroit, Florida, Houston, Los Angeles, Minneapolis/St. Paul, NYC tri-state area, northern California, Philadelphia and Phoenix. So if you're like me and not in one of those places, this has absolutely zero value to you. Even if you are, its value is directly related to how often you partake of the types of things it provides, which is a dubious value at best for a lot of people.
Regardless of how you put money onto the card, there is also still a potential delay in getting that sweet, sweet RP credited onto your League account. The fine print says to allow up to thirty days after you register, add money, enroll in Direct Deposit, or spend money via the card for the RP to appear in your game account. So don't expect any of these bonuses to hit your account any time soon, even if you signed up today.
As an aside, all of this relies on you qualifying for a card in the first place. You have to live in the US and be at least 18 years of age (or 19 in states where the age of majority is 19). In some cases, sub-accounts can be created for those ages 13-17 under a parent/guardian account. Oh, did I mention that if you're already an AMEX/Walmart Bluebird account holder you're not eligible for a Serve card at all? Alternately, if you get a Serve/RP+ card, you're ineligible to ever get a Bluebird card. It appears these are similar types of sponsored cards and that they're mutually exclusive. While that may not affect everyone, it still potentially effects a lot of people and may effect more in the future if this mutual exclusivity applies to future AMEX sponsored cards.
I know all of the above looks long and complicated, but considering the Terms of Service for the Serve card are around ninety pages long, you got the shortest version that actually keeps you somewhat informed of what's going on.
When it's all said and done, the new Serve/RP+ card isn't for everyone. I truly can't recommend it to anyone that can't, or won't, commit to getting the Direct Deposit bonus. If you're not getting that 10,000 RP, you're better off just spending your money in the in-game Store or getting some pre-paid cards from a local retailer.  The people who churn large amounts of money through credit/debit cards on a monthly basis will have to do their own math and compare this to other "Rewards" programs available to see if it is worth it for them or not. However, in most cases, only obtaining the initial 13,000 RP this card offers is the best way to use it. After that, it becomes more of a collectible you carry around for fun.
That being said, I still really love that Teemo card…
Taggerung: Even taking all that into account, I still am definitely planning on picking up this card. The customized Lux one to be specific.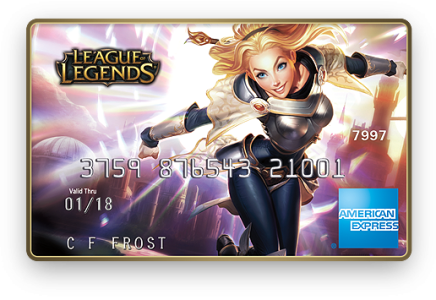 Reference: