Sherlock Holmes Crime and Punishment, lets you delve into the old world of criminal investigation as the legendary Sherlock Holmes. They use the original Sir Arthur Conan Doyle's version to build their characters. Somewhat modernized to go along with the new game play elements, the world and its characters remain true to thier origins. If you are one of those people who complain that all games released are the same, it would be hypocritical not to try this game. Frogwares has already released a few videos that highlight how well this game is coming. They will continue to release a new video each week until the games release. You can see the whole series here.
I'd be lying if I said I knew anything about the Sherlock Holmes series prior to yesterday. Strategy and thinking are not exactly my forte when I play games.  A one legged man could ski up Mount Everest before I could build a functional city in Civilization. So I was more than a little surprised with myself when I found my interest peaked after watching just one video of the game play. Having watched all the videos they released so far and, I have come to the conclusion that I am going to step outside my comfort zone.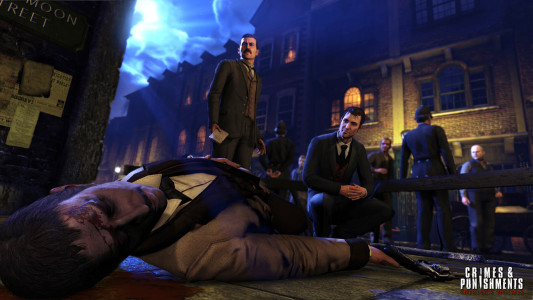 Frogwares has changed from their in house engine to the Unreal Engine 3 engine for Sherlock Holmes Crime and Punishment. The new engine has allowed them to add and improve every element of the game. The world is larger and more detailed. Improved lighting and shading bring the world to life like never before. Character models look fantastic, and their facial expressions are impressive. More interactive elements have been added to the game play giving the player more control and making them much more involved in the outcome this time around.
The game can be played in third or first person. Watching the videos will give you a great perspective of how to use Sherlock's investigative skills. There are now 14 different techniques you will use as you have Sherlock observe the people and objects around him to find clues for both the investigation at hand as well as the people you are interrogating. The video highlights the examining feature where you find various things on or about a person to tell you more about them and how you have to use them. The more clues you find the more information you have to come to your conclusions and make moral choices.
You can even find the wrong person guilty if you don't find enough clues. You choose where to go throughout your investigations and you can even find clues that will send you back to an area to investigate again with your new found knowledge.
Sherlock Holmes: Crimes and Punishments will release on September 30th for Xbox 360, Xbox One, Playstation 3, Playstation 4 and PC.