Fancy yourself a musical genius? Maybe you can just about hold a tune? Or are you just a fan of the Final Fantasy series? If you are any of the above then you may be interested in the Theatrhythm Final Fantasy Curtain Call competition Square Enix recently announced.
All you have to do to enter is perform the Main Theme of Final Fantasy in some way or another. You can use any instrument or medium you can think of. Creativity is a focus of the contest alongside talent, so even if you're not the best musically, if you can bring something else into the party you've still got a good shot at the grand prize.
Which, by the way, includes a round trip for two to the Distant Worlds concert series, a limited edition copy of the game signed by Nobuo Uematsu himself, the official soundtrack of all the numbered entries into the Final Fantasy series, a Final Fantasy Static Arts Mini figure…
Oh, and this fancy 3DS XL.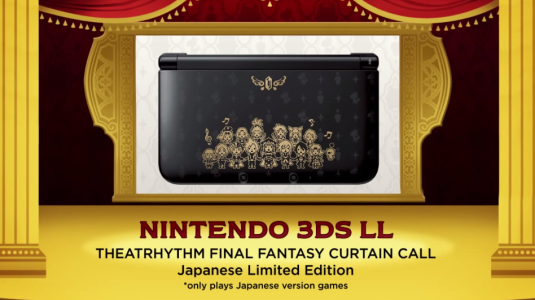 The rules are simple. Keep the video under 1 minute 30 seconds, have the name of your favourite entry into the series on display in the vid, and, if you want in on the advert, perform the piece at 120-125 beats per minute in the key of F. Groups can enter, but only one person can submit the video.
More information, and submission details, can be found on the official website.
Theatrhythm Final Fantasy Curtain Call will be on sale September 16, 2014