Super Monkey Ball Bounce is available for the iPhone, iPad, iPod touch and Android devices.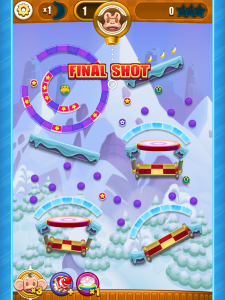 There are 119 levels and six unique worlds with more levels and new worlds coming soon. The game is themed on pachinko style game-play. Players can drag their finger across the screen to align their monkey to shoot them into different types of puzzles.
Just like the previous versions of Super Monkey Ball, players will be able to play through their Facebook account to keep track of their progress, as well as their friends'. They will also be able to exchange lives.
In 2001, Amusement Vision and published by Sega Networks Inc. brought out a game called Super Monkey Ball. The game consisted of playing as a monkey, running around obstacle courses in a transparent ball. It amused both children and adults with the light hearted game play, with players running through obstacles and grabbing as many bananas as possible.
Due to its popularity, other sequels came out as the consoles progressed as well as versions for mobile phones
Super Monkey Ball Bounce is free to download through the App Store and Google Play.
Get to bouncing that monkey!