There I was trying to catch up with all the new 52 storylines and then DC goes and reboots everything all over again.
In case you come from another universe and have no idea what I am talking about, DC Comics (creators of Batman and Superman) retired their older line of imprints, the new 52, in the beginning of this summer, following the events of Divergence, an epic all-out clash of all DC storylines ever made.
A Little History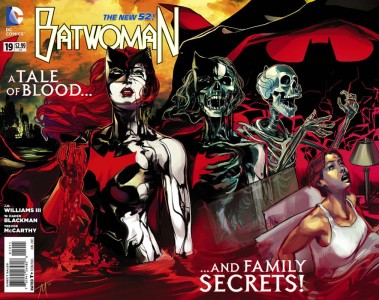 The New 52, launched in 2011 and was the first reboot across DC series in this decade. It gave new origin stories and costume designs to popular characters. Along the way, it featured several successful crossover events such as Blackest Night and Injustice but also sparked a lot of controversy. In 2013 J.H. Williams III and W. Haden Blackman, the creative team of Batwoman, walked out of the series after the company refused to let them run Batwoman's planned gay marriage. The company defended itself in the public and said that the reasons where not sexist, but that Batwoman is a dark superhero who cannot simply settle down and be happy. In 2014 however, more controversy emerged with Batwoman as the vampire Nocturna hypnotised Kate Kane (Batwoman) and, in sort, took sexual advantage of her. Fans once again lashed out on the company as to why gay marriage is not allowed but rape is. To top it all, earlier this year, DC pulled the variant cover for Batgirl #41 on the last minute featuring the Joker holding Barbara Gordon (Batgirl) on gunpoint. It aimed to pay homage to Alan Moore's The Killing Joke, in which the Joker is thought to have raped her and therefore the image was associated with rape. DC has issued several apologies during the last four years but what it really needed was a complete make-over.
As a result, the re-calibration of the New 52 is called DC YOU. As explained in past press releases the YOU is intended to be us the readers. Yes, this is really as cliche as it sounds. A company tries to re-establish their good image and rebrands itself with a name imploring that the customer is at the heart of business. But sarcasm aside, the new story lines are really interesting so far.
I won't give any spoilers and I don't aim oversell this but this is how everything starts: Bruce Wayne is dead, Jim Gordon is the new Batman and Superman has lost his powers. These are just the two biggest character lines of the  DC Universe, several other existing storylines from the New 52 follow but there are also the launch of several new promising series.
Where to start:
Well if, like me, and you don't have a comic book store near you, all series will be available in the DC Comics app in both iOS and Android. New comics in the online store are generally available in the store every Wednesday. But how should you begin following all this?
DC constantly includes origin and background stories in its issues so you don't necessarily need to have read the older New 52 stories. You can just pick up any issue and start reading. However, if you wish to follow from the beginning, the line began last month with the launch of Action Comics #41 featuring Superman having lost his powers. He is chased down by the authorities who finally got the courage to sue him for all his public damages he caused fighting gigantic aliens and super powered villains across Metropolis. If you are new to comics you might note several story differences caused by the New 52, like the fact that Lois Lane is not Superman's girlfriend, instead Wonder Woman is. Batman #41, as mentioned above begins with Bruce Wayne thought dead and the police wishing to create a new state-funded Batman put Jim Gordon is what looks like a giant bunny-looking Iron Man. The two storylines intersect with crossovers such as Batman/Superman #21 and the Justice League #41. Older and popular series continue with Green Arrow #41, Green Lantern #41 Detective Comics #41, Wonder Woman #41, Flash #41 and Superman/ Wonder Woman #18 continue.
Something New

The are new and exciting series however, such as the standalone Cyborg #1 (written by David Walker), which features a new suit design  and the evolution of Victor Stone as a more human character rather than machine.
Robin: Son of Batman #1,written and illustrated by Patrick Gleason will tell the story of Bruce Wayne's resurrected son Damian, who was killed during the New 52.
Black Canary #1, written by Batgirl writer Brenden Fletcher and illustrated by Annie Wu features Dinah Lance as a member of a rock band by day but a superhero by night.
We Are Robin #1 features a group of teenagers inspired by Batman's sidekick as they have adopted the R symbol in their own war on crime. It will be written by Lee Bermejo and illustrated by the team of Jorge Corona, Rob Haynes and Khary Randolph.
Speaking of Batman-related characters, during the New 52 there was the launch of Grayson, the standalone storyline of Dick Grayson aka Nightwing aka the first Boy Wonder who left Batman's shadow ever since to become his own man. After a long career protecting Gotham's sister city Bloodhaven as the superhero Nightwing, Grayson ditched the tights to become a James-Bondesque superspy in the world of global espionage.  DC YOU continues the series with Grayson #9.
There are more new titles to explore such as Midnighter,  Batman Beyond, Bizarro, The Omega Men. The list is too big to be included in just one article.
To celebrate their recent change of direction, DC has launched the DC YOU advertising campaign and provides free comic samples for each new or continuing story across this summer in both comicbook stores and on the apps. I'd also recommend a visit at dccomics.com/dcyou.