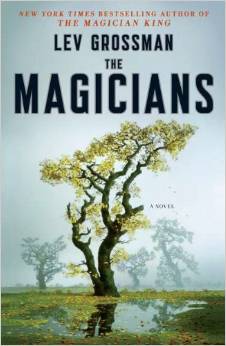 The Magicians by Lev Grossman
With the third book in the trilogy coming out this summer, reading The Magicians and The Magician King would be a great way to spend a few days. The books follow Quentin Coldwater, an American teenager about to enter college and magician. At an interview to apply to college, he receives a manila envelope containing a set of papers and the chance to attend Brakebills Academy, an exclusive college that teaches magic. He jumps at the chance, naturally, but finds that going to magic school won't automatically solve all of his problems. The book touches on the Harry Potter series, along with references to Narnia through a series of novels featuring a fantasy land called Fillory, which a group of English schoolchildren explore.
Fillory appears both in The Magicians and in The Magician King, which feels very much like C. S. Lewis's The Dawn Treader, with a fair bit of cynicism and modern-day grit tossed in. This series looks at what really might happen if an unhappy teen is tossed into a world of magic, and as someone who read Narnia as a child and grew up alongside the Harry Potter series, it was exhilarating to read a book that showed a darker side.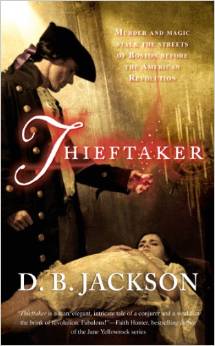 Thieftaker by D. B. Jackson
Another trilogy finishing up this summer, the series starting with Thieftaker and continuing with Thief's Quarry is a historical fantasy set in the years just before the American Revolution. It follows the thieftaker and conjurer Ethan Kaille, a man who works outside the law to capture criminals. When he's hired to investigate a murder, he finds himself in over his head, and not just because he's never gone after a murderer before. It turns out that a rich man's daughter hasn't just been killed for her stolen jewelry; her death is part of a political conspiracy that has something to do with the rabble calling for revolution. Kaille must not only figure out what's going on and how to stop it, but also avoid being killed by his rival thieftaker, Sephira Pryce, and find some way to use his magic to solve the crime without being hung as a witch.
Both Thieftaker and its sequel have a great deal of history to them, and the historical inaccuracies (such as thieftakers only working in London at the time) are easily forgivable for the exciting story. These books are best for the fantasy fans who like a lot of fact in their fiction and enjoy reading about the United States when they were still a set of British colonies. (Need more reason to read them? Samuel Adams himself makes an appearance!)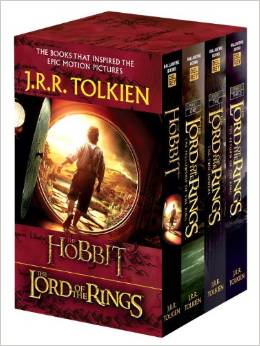 The Lord of the Rings by J. R. R. Tolkien
All right, so it's kind of a given that a list of fantasy trilogies would include this classic. Still, they're great books and well worth a read (or re-read for some of us). For those who like the feeling of losing themselves in another world, this series is perfect. Tolkien built up a whole mythology for this series and a whole history behind the land, and if you want to break from the trilogy, you can find not just The Silmarillion but several books' worth of his unfinished writings to delve more into the history and heroes of Middle-Earth. It's also the series that really kicked off a lot of today's fantasy writers, inspiring dozens of imitations (*cough*Terry Brooks*cough*).
For those who haven't read it or have forgotten it entirely, The Lord of the Rings is the tale of a journey made by hobbits, men, a wizard, an elf, and a dwarf to destroy the One Ring, which can bring untold evil to Middle-Earth. Along the way, they face danger, but also talking trees and several incredibly memorable characters including Tom Bombadil, who everyone either loves or hates, and Eowyn, an extraordinary badass of a woman.
The Westmark Trilogy by Lloyd Alexander
Beginning with Westmark and continuing with The Kestrel and The Beggar Queen, Lloyd Alexander's Westmark Trilogy is another classic, though less well-known than The Lord of the Rings. It's the only trilogy on this list with no magic whatsoever, but that makes it no less of a fantasy and no less wonderful. It's the story of a printer's apprentice, Theo, who accidentally gets himself caught up in the politics of his country, Westmark. When his master is arrested for printing seditious documents against the orders of the king (who by now is a puppet of his adviser, Cabbarus), Theo is forced to run for his life. He finds friends and allies along the way, including Los Bombas, a con artist in the style of the snake oil salesmen; Mickle, a girl with a sharp tongue and a talent for mimicry and throwing her voice; and Florian, the leader of a group of intellectuals and potential rebels who dream of someday making a better country.
The Westmark Trilogy, like so many of Alexander's books, is a coming-of-age tale, with many characters coming of age in their own way. The series goes from quietly planned rebellion to outright war, so be prepared for blood and death. Being a series by Alexander, much of the blood and death is treated heartwrenchingly rather than eagerly. This is far from a typical fantasy, but it ought to be read nevertheless, and perhaps even because of that. (If you want more Alexander, The Prydain Chronicles and The Vesper Holly Adventures are also excellent, but again, I'm breaking the trilogy rule, since both of those are over three books.)
Feature Image Via: The Maine Page Turner