Hay Ewe! Read This Review
The Good
Conducive to short bursts of play, which is perfect for mobile.
Teaches you the game quickly, and then ramps up the challenge.
Level editor ensures significant replayability.
The Bad
None in particular to speak of.
Rocket Rainbow Studios, a team of former employees of PopCap Games has announced their "ewe-nique" puzzle game, Hay Ewe will be releasing on iOS on October 16th. The game will run £2.99/$4.99/€4,49 depending on the currency of your home country.
The game focuses on the adventures of a sheep named Matilda, a natural-born leader who has been tasked with rounding up her farm's mischievous lambs. Players will have to solves puzzles and avoid obstacles while keeping their lambs safe. The game is cheery and colorful but promises to be quite difficult. It features more than sixty levels, multiple mini-games, leaderboards, character customization, and a level editor so you can create your own challenges for your friends.
The team behind the game certainly has the pedigree to make a top notch mobile game, so I  was excited to get my hands on an advance copy of the game.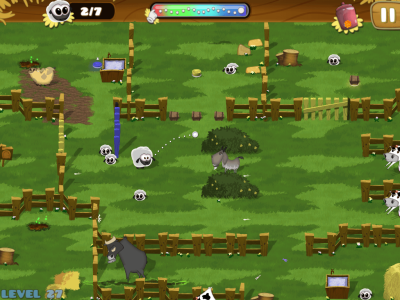 You control Matilda by dragging around the map, setting up a path that she will follow. The control scheme is intuitive and works well. This is good because the game ramps up the difficulty quickly. Thankfully the game's opening stages provide a good tutorial on the game's mechanics and characters. Plus, if you ever need a refresher the game's "EweTube" (this game thrives on wordplay) provides you with a simple explanation of what every character or obstacle does.
The art style is bright and cheerful and each of the farm animals, helpful and harmful, have silly names. Denzil the horse can kick you and your lambs over fences, Billy the goat will ram you off the map, and Heidi the cow will cover your screen in milk. Even Foxy the fox's consumption of your lambs is done in a cute way.
The minigames provide a good challenge and diversion from the game's main content. Bull Rush tasks you with charging down an ever widening path while avoiding charging bulls. Whack a Foxy is a take on Whack a Mole where you try to whack Foxy before he can eat your lambs.
The game is also heavy on customization, which enhances its replay value. Collecting candy while playing the game will provide you with currency to purchase power ups, such as a shovel you can use to dig tunnels, or different accessories like a spiked helmet or chef's hat, for the game's characters. More importantly, the game includes a fully featured level editor, with the ability to connect to Facebook to share your created stages with your friends. Given how many people have iOS devices, I'm sure people the world over will be producing some fiendishly difficult stages, making sure that you get more than your money's worth out of the game.
In all, Rocket Rainbow Studios lives up to their pedigree with this easy to understand but still challenging puzzle game. The game perfectly fits mobile devices with its easy touch controls and convenience for short bursts of play. Definitely check it out if you're looking for a challenging puzzle game on the go.