There are many different types of headphones on the market, all fulfilling different purposes. For the casual listener, over ear headphones provide comfort and quality sound. For listeners on the move, in-ear headphones are a go to solution. I have never been a fan of in-ear headphones, while they deliver a snug compact fit, I never liked the almost underwater sensation they delivered. Every breath and step seems amplified with a silicone nub wedged into your ear canal.
The Marshall FX Minor headphones are the best headphones I have ever used, and that's saying something considering they are in ear devices.
The Minor FX come in two color schemes, The traditional Marshall black and gold, and white and gold. These sleek headphones come wrapped in braided tangle free fabric cords. At the end of the cord, users will find a gold plated L plug. Not only will the L plug keep your cable safe and snug with your listening device, but a small spring coiled around the end of the cord will keep it from tearing. I have personally been using Minor FX's for 3 years now, they are definitely built to last. The small remote housing music controls and a quality microphone also features robust buttons that elicit a healthy click with each press. The built in music controls are also certified to work your favorite Android and Apple devices.

Every audiophile knows how it feels to discover a new element to a song. After switching from mediocre headphones to these, I had the "They have that instrument in that song?" moment. With 15.4mm moving coil dynamic speakers, the Minor FX's will bombard your eardrums with quality sound that will keep you listening even longer. It is a pleasure to tinker with my phones equalizer with these plugged in, really getting a sense of the subtleties that can be lost with devices of lesser quality.
Aside from being quality headphones for listening to your favorite music, the Minor Fx's have multiple uses. Its high quality mic allows users to seamlessly move between their music and phone calls. Call quality is crisp and loud. I have also used these as my primary headset with my PS4. One glaring issue many users face when using certain headphone sets with their Dualshock 4 controllers is feedback or a highly annoying ringing noise. During my gameplay, I found no feedback issues and clear chat audio across both headphones.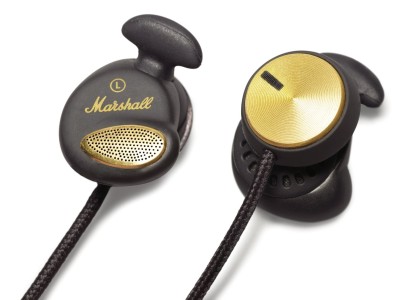 The main reason these are my favorite in ear headphones lies in Marshalls proprietary technology. Most in ear headphones rely on silicone nubs that must be pushed deep in your ear. This can result in that underwater feeling I mentioned earlier, in which your every breath, and step can feel amplified, and surrounding noise can sound muffled. Using Marshalls Ear Click technology this problem is completely averted.  Using small rubber nubs that click into the ridge inside your ear, these headphones fit snugly in your ear, and remain there. The silicon pieces come in various sizes, allowing users to find the best fit for them. This unique technology truly sets these headphones apart from their competitors.
There are not many faults to be found in these quality headphones, but three instantly come to mind. The pause button in the center of the attached remote is painted in a low quality chrome gold color, matching the rest of the gold accents. After times, this can wear away and may bother users who like to keep their electronics in pristine condition. Secondly, the braided cables are so thin, they do not keep they headphones from tangling very much. Finally the rubber coating around the plug itself can be so thick that it will not fit with certain phone cases.
With these minor issues, the Marshall FX Minor's are still the single greatest set of headphones I have ever used. If you are looking for compact headphones that fit snugly and will remain in even during faced paced movement, these are your answer. You can snag yourself a pair for $60 at Marshall's main site. Do not pass up on these.