Star Wars Rebels starts out big this week when the show opens with a 2 on 2 lightsaber duel between Ezra and Kanan against the 2 Inquisitors. Things aren't going so well for the good guys when it appears they are at the mercy of the seventh sister and the fifth brother. Now strap in, and punch it, but watch out for asteroids (spoilers), it is time for Star Wars Rebels.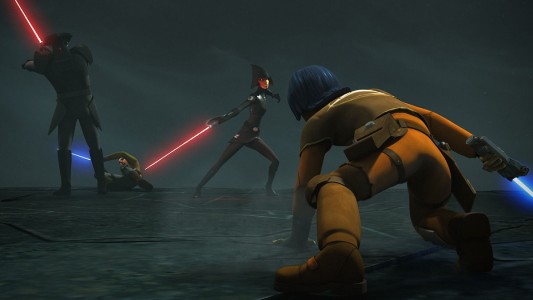 Visions
Kanan holds onto Ezra, leaving himself open to an inquisitors attack, but some quick thinking from Ezra allows him and Kanan to narrowly escape and leave them behind. It sounds like that as of late the inquisitors keep arriving every where they go. The Phantom meets up with the Ghost but away from the fleet. Ahsoka Tano is waiting for them, after a brief discussion between the three, they go in search for answers. Apparently there has been a hidden Jedi temple on Lothal and that's where our three force wielding good guys head to commune with Yoda. A meditation circle ensues, and Kanan is the first to see something when a door way only he sees, appears. His path leads him to a temple guard who learns that Kanan's failure will lead to Ezra falling to the dark side. Kanan disagrees and a duel begins.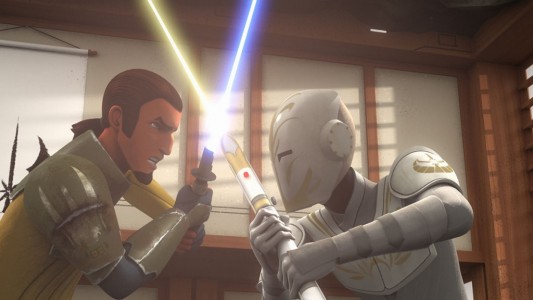 Back on the outside of the temple, Chopper spits some trouble in the form of Inquisitors and makes a run for it. Back inside, Ahsoka and Ezra talk about Master Yoda when Ezra just appears to vanish in front of Ahsoka, only to reappear before Yoda in some sense. Kanan is struggling in his battle when the show jumps back to Ahsoka. She is struggling as she hears the voice of Anakin Skywalker and gets an image of Darth Vader. Master Yoda shares his wisdom with Ezra even revealing that it took him a lifetime to be able to control his fear, not allowing it to become anger. It's a good scene that gives some insight into Yoda's thoughts on the Clone Wars, and how it was a mistake to join the war so readily. Kanan in his vision quickly realizes that he can protect Ezra only so much, and that ultimately is up to Ezra in what his fate will be. The temple guard, in his vision, knights him for his choice and it is revealed that the Grand Inquisitor from season one was most definitely a Jedi knight before the fall of the republic.
The visions allow enough of a distraction for Kanan, Ezra and Ashoka to escape with the clue of Malachor and Star Wars Rebels ends with the arrival of Darth Vader to Lothal. One of the best episodes yet that helps set up Star Wars Rebels going forward, and answers a few lingering questions. The only real big gripe is the design of Yoda, but overall Shroud of Darkness was a very good episode that connects a larger world.