Formula E's inaugural season, beginning September 13th in Beijing, is a global platform for the promotion of electric vehicles and their technologies. This championship, hosted by ten major cities, will showcase the capabilities of today's electric cars to an international audience.
This first season is a one-make series; all teams race identical cars. The fully electric Spark-Renault SRT-01E, built by Spark Racing Technology, is a collaboration between some of the biggest names in formula racing. It's heart, the 200kw battery, was developed by Williams Advanced Engineering. The cars electronics and power-train are supplied by McLaren Electronic Systems and the five speed paddle-shift gearbox was developed by Hewland Engineering. They're capable of 0-62 mph acceleration in three seconds and can reach a top speed of 140 mph. But before the first race is even run, manufactures are already looking to the future.
"We have to assume…the development for year two as soon as we can. Once we get to Beijing we'll start work on the car for the second season. I don't want to say it'll get easier…but it will certainly be a different project!" said Frédéric Vasseur, president of Spark Racing Technology. Season two will open the championship up, encouraging competitive innovation. Teams will be allowed to design their own vehicles, applying lessons learned this year. Developments will be regulated however, with an eye toward consumer market application.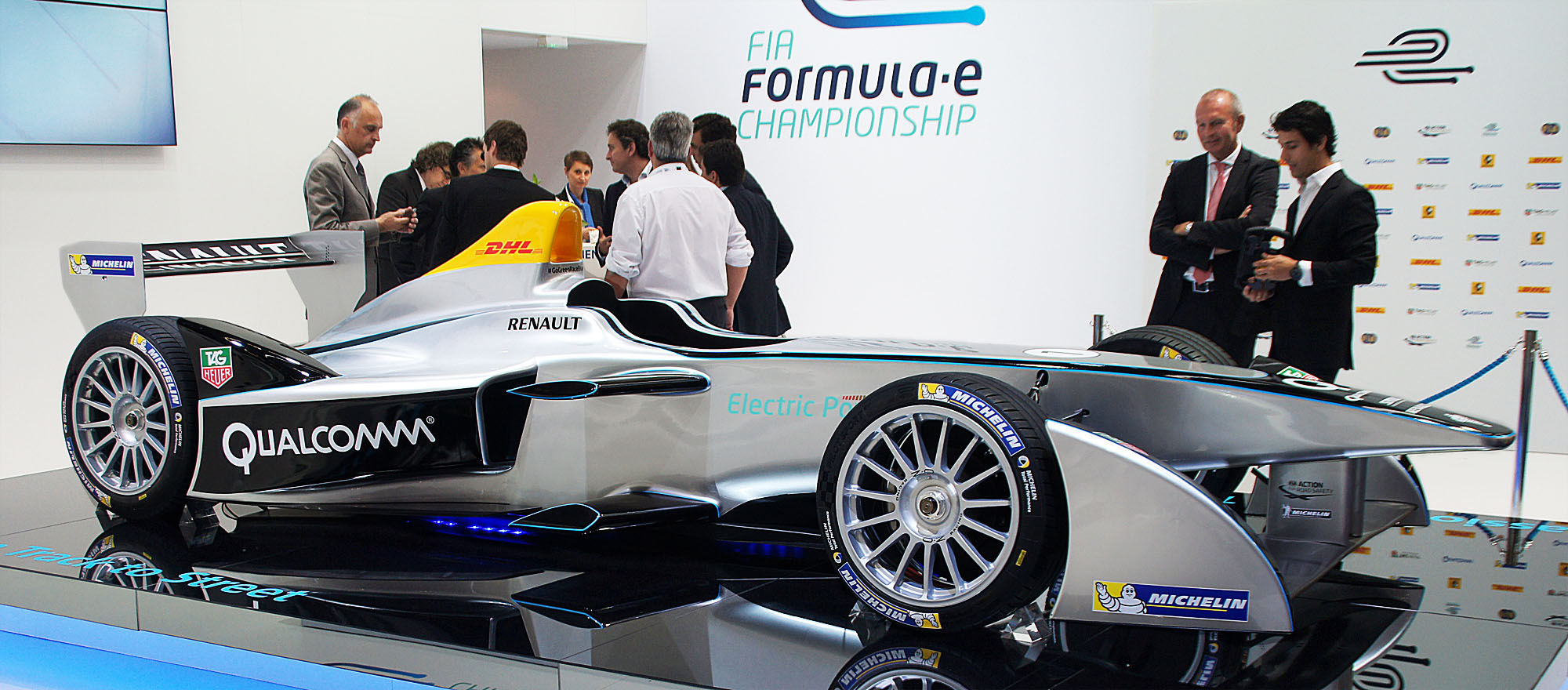 One new innovation already being tested this season is wireless charging. "Our ambition is to supply all the teams with wireless charging and we are delighted that TrulliGP is the first team to adopt this exciting technology." said Lord Drayson, CEO of Drayson Racing Technologies. Qualcomm, a founding sponsor and semiconductor company, has helped equip the race safety cars with this. Currently cars rely on magnetic induction to transfer energy from a ground pad to a parked vehicle. But Drayson and Qualcomm envision a future where cars charge while on the go. This idea stands in stark contrast to Tesla Motors recent 90 second battery swap demonstration. But unlike Tesla cars, the battery of an SRT-01E is not removable. Either way, both methods require the construction of a charging infrastructure. Drayson and Qualcomm are confident in their integrated, no hassle approach. Much of this hinges on the success of this years testing. After that, dynamic charging might see a similar one team trial period before league wide use. If proven successful, introduction into the market may follow.
An aim of this series is to stimulate the market for these innovations by capturing the attention of a younger, more environmentally conscious generation. Bringing the series to major cities is part of this mission. "We believe that cities are the natural environment for electric cars. [They] will play a very important part in reducing city air pollution." said Alejandro Agag, CEO of Formula E Holdings. In addition to promoting sustainability, these single day races promise to stimulate the host cities local economies. Ernst & Young has predicted each event will generate an average of $10 million dollars and create 250 temporary jobs. Race organizers hope that the positive effects of the race will influence consumers to think electric next time they're in the market for a car.
Manufactures of consumer grade electric vehicles are counting on this. The race represents a unique opportunity for them to showcase their current and upcoming products. BMW is set to become the official vehicle supplier for the championship. Their all-electric i3 and hybrid i8 vehicles will be used as medical, course and VIP cars. Rimac automobili is also contributing their fully electric Concept_One super car to the series. The Concept_One is capable of 0-62 mph acceleration, same as the race cars. It will serve as the race directors official vehicle. In addition, this car will be used for passenger laps, allowing fans a chance to experience the circuit first hand.
The race sponsors are confident in the future of the championship, as well as the industry. Rimac Automobili CEO Mate Rimac has said, "Racing has always been the driver of innovation. It is the reason for our very existence…We believe that the Formula E series will be an incubator for thousands of innovations and technologies that will contribute to the adaptation of electric drivetrain technology…" It's a sentiment shared by all those involved.