These frission-inducing Shure headphones are very simply, music the way it's meant to be heard.
Many moons ago, I reviewed the Marshall Minor FX earbuds. These wonderful buds have since been discontinued (although you can find them on Amazon). After having purchased multiple pairs over the last few years, The SE215's have shaken me out of my stagnant ways.
I'm incredibly particular about the fit of my headphones, and am usually averse to in ear buds. I cannot stand the almost underwater feeling some in ear buds deliver, where users can hear every step they take, and bump against the cables of their buds, and even their own breathing if the volume is low enough. I scoured the internet on the hunt for in-ear buds that didn't actually go deep in ear, or use tips. But after reading about some of the key differences between foam and silicone ear tips, I decided to give them a try.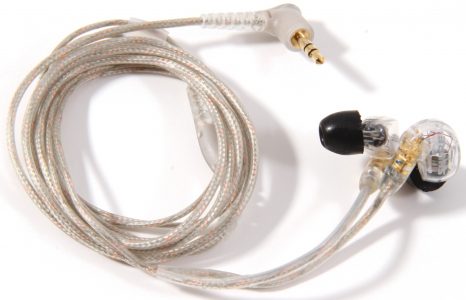 The SE215's come with both silicone and foam ear tips, giving users the option to customize their fit. I have never used foam tips before, and to my surprise, found them much more comfortable. Additionally, they provided a great seal, reducing noise and amplifying bass. As a frequent commuter in one of the loudest cities on the planet, noise reduction is key. The SE215's tight seal reduced a passing train to a low rush of air, and the crying of a disgruntled infant into almost complete silence. Shure claims the 215's sound isolating
sleeves can block up to 37 decibels of background noise. After using them around the city, I would say that claim is well founded.
There's a reason Shure buds are a go to for many musicians, in fact there are quite a few. The most important reason, is how they sound. Audio is crisp, with pleasing highs and lows. The in-ear design and sound isolation also help boost bass when listening. Also, while users won't need to, they can turn their volume up without fear of sound bleed. The audio quality is unmatched especially at the $100 price range. Upon my first listening session, I literally got goosebumps.
The Shure name carries with it a reputation for quality, and that isn't wasted on this set of buds. The cord itself is braided, Kevlar reinforced, and quite lengthy. The headphone jack features a thick rubber coating, and is quite large, which may be a concern for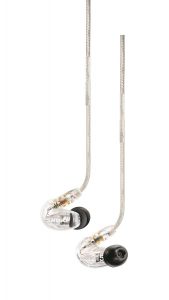 those with thick iphone
cases. The SE215's also feature detachable cables and formable wire toward the ends, in order to shape them around the ear.
There is little to complain about in a product with such quality, but there may be issues for some. The most notable feature missing from these earbuds is the lack of an inline mic or remote. This isn't too much of an issue for me personally, but to others, accessing their phone constantly may be a nuisance. Another simple preference issue, but when I say the cord on these is long, they are long. This is of course a good thing, but again, for some too much of this good quality may be an issue.
If you are looking for a wireless solution, the lack of an inline remote is a deal breaker,  or if you simply don't want in-ear buds, these may not be for you. Although, as a recent convert, I would recommend the 215's to anyone looking to try out foam tipped in-ear buds. For those chasing quality sound and build, then look no further. I've been absolutely blown away by these buds, and you will be too!