Come this fall, the DC TV universe will have some serious girl power. Of course, I'm talking about the Supergirl TV show coming soon to CBS. And from the looks of the preview, Supergirl just might be one of the highlights of this fall TV season.
The Premise. Supergirl will follow the story of Kara Zor-El/Supergirl as she learns to embrace her superhuman abilities despite being raised to ignore her tendencies by her adopted family, the Danvers. Initially, Kara was sent to Earth from her home planet of Krypton to look out for her infant cousin Kal-El/Superman, but ended up arriving at her destination much later than intended. And since he is a grown man and has become Superman by the time Kara arrives on Earth, this leaves little else for Kara to do except forge her very own path. For Supergirl, this ultimately means being a hero in her own likeness, starting with saving her hometown of National City.
By day, Kara Danvers works a seemingly dead-end job as the assistant to the owner of CatCo, the demanding and unapologetic Cat Grant. Like her cousin, Kara seems a bit aloof on the job, which kind of makes it difficult for her to get ahead. It's a good thing she makes a friend. Enter James Olson. And by the looks of things, Kara and Jimmy might end up being more than just colleagues. Can you blame her?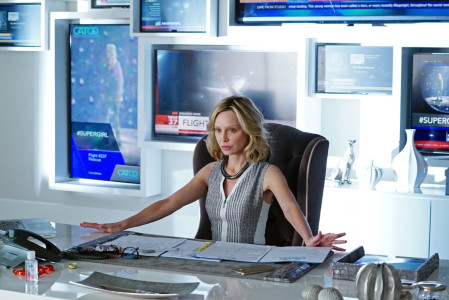 The Cast. Supergirl definitely has an attractive cast, which is all the more reason to watch, just in case the whole superhero premise didn't resonate with your inner nerd. For starters, the lead role Kara Danvers/Kara Zor-El/Supergirl is played by the beautiful Melissa Benoist, who you may have seen on Glee or in the critically acclaimed movie Whiplash. Next up, is the very handsome Mehcad Brooks, who plays James Olson (Kara's co-worker/love interest). You may remember Mehcad from his stints on Desperate Housewives, True Blood, or Necessary Roughness. There's also Chyler Leigh, who plays Alex Danvers (Kara's sister). You may remember Chyler from her role as Dr. Lexie Grey on Grey's Anatomy. Then there's David Harewood, who plays head of the Department of Extra-Normal Operations Hank Henshaw (and potential pain in Supergirl's side). You may have seen David on Homeland. Last, but certainly not least, is the lovely Calista Flockhart, who plays the diva Cat Grant. In case you need reminding, Calista is known for her roles on both Ally McBeal and Brothers & Sisters.
But wait, there's more. The lovely Laura Benanti will play Alura Zor-El/Kara's birth mother. Aside from her long resume of stage work, you may have seen Laura guest starring on several shows, including her recent recurring stint on the musical drama Nashville. You can also expect guest appearances from the former man of steel Dean Cain, and Peter Facinelli, among others.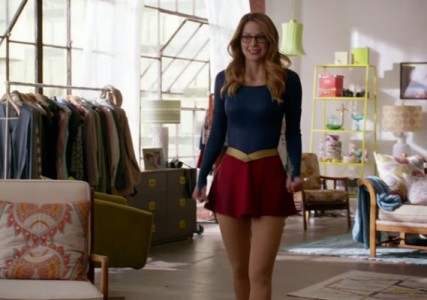 The big question. How will the new Supergirl TV show fit into the whole DC TV universe, if at all, you may be wondering? Well, apparently not at all. According to IGN, CBS President Nina Tassler wasn't exactly enthused about the idea of creating a shared universe with the current DC TV hits, The Flash and Arrow. Oh well. Even still, between Berlanti backing it and the talent on the show, Supergirl should definitely be a good one.
Supergirl premieres Monday, October 26 at 8:30pm EST on CBS. Until then, here's a sneak peek at the show, thanks to CBS fall preview.
Source: CBS Fall Preview